BU Alzheimer's Disease Center Receives Donation
Researchers studying Alzheimer's disease at Boston University School of Medicine are the recipients of a donation resulting from a September fundraiser, "An Evening at the Arbors." This event raised $15,000 for the BUSM Skip Curtis Fund, which was donated to the BU Alzheimer's Disease Center. The Skip Curtis Fund was established by Meg Curtis in memory of her husband, Mr. Charles (Skip) Curtis, who died in 2010 at the age of 64 from Alzheimer's disease, in order to support clinical research efforts at the BU ADC.  Mr. Curtis had been a research participant in several studies conducted at the BU ADC and Mrs. Curtis has become a vocal and active advocate on behalf of Alzheimer's disease research.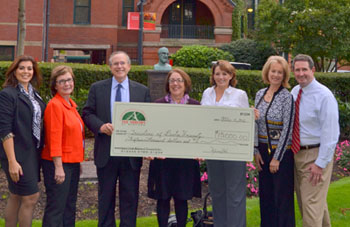 Sponsors of the event presented the check in front of the Talbot Green. Pictured (l to r): The Arbors of Bedford Director of Marketing Paula Whittier, Executive Director of Brookhaven Hospice of New Hampshire Mary Hagarty, Director of the BU Alzheimer's Disease Center Clinical Core Dr. Robert Stern, Alzheimer's advocate Meg Curtis, Administrator of The Arbors of Bedford Michelle Ellis and Janet and Richard Sullivan, co-owners of Right at Home. Sponsors not pictured: Concord Orthopedics, Extra Touch Gourmet, Keller Williams Metropolitan and CPTE Physical Therapy.