GSDM Student Andrew Jorgensen Fulfills His Wish to Help People Smile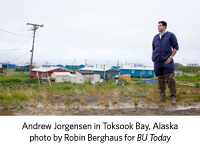 Andrew Jorgensen DMD 13 has recently received well-deserved attention for his service to the community at large and for his excellence as a dental student of the Boston University Henry M. Goldman School of Dental Medicine (GSDM). Jorgensen was chosen as the first BU student to be presented on Boston University Provost Jean Morrison's newly launched website feature, Faculty & Student Spotlight. Jorgensen's Student Spotlight is titled "From Rockets to Retainers." He was also featured in Sept. 17, BU Today story and video by Robin Berghaus titled "Extreme Dentistry in a Faraway Place: BU dental student takes his skills to Alaska."
Both accounts convey the story behind Jorgensen's choice of dentistry as a profession. His first career choice was to be an engineer. However—according to the Student Spotlight story—Jorgensen found aerospace engineering too intangible, in practice, and decided to move on.
Jorgensen included two criteria in his search for a new profession: that the job would help people and that he would work with his hands. This is the path that led to GSDM.
Now in his fourth year, Jorgensen has truly begun to realize his career aspirations. This is particularly apparent in his three-week summer externship to Bethel, Alaska.
Bethel lies in Alaska's Yukon-Kuskokwim Delta and is inaccessible by road. The area—as described by Robin Berghaus in "Extreme Dentistry"—has a Yupik Eskimo population with insufficient access to dental care and that has a dental decay rate that varies between 7 and 10 times the national average.
As quoted in "From Rockets to Retainers," Jorgensen says of his externship, "Bethel is a once in a lifetime experience. They need help out there. It's a fulfilling thing to do. People like to smile. It's an important part of who they are, and so if I can do a little to help them, then that means a lot to me."
Jorgensen has found a way to help people and to work with his hands.