BUSM Class of 2012 has a 97 Percent Match Rate, Surpasses National Rate
Surpassing this year's National Residency Matching Program rate of 95 percent, the highest in 30 years, members of the Boston University School of Medicine (BUSM) Class of 2012 had a 97 percent match rate. "These are the best results in a decade at BUSM and the Class of 2012 was accepted at many of the top programs in the country," said Phyllis Carr, MD, associate dean for student affairs.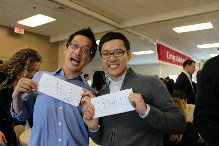 For the second year in a row, Match Day was held in the Hiebert Lounge amid red and white balloons. Members of the class gathered along with their family and friends to receive their letters from Dr. Carr as well as from Student Affairs Assistant Deans Daniel Chen, MD, MSc; Kenneth Grundfast, MD; Paul O'Bryan, PhD; John Polk, MD '74; and Karen Symes, PhD. Robert Beazley, MD, professor of surgery (retired) and Samantha Kaplan, MD, MPH, assistant dean for diversity and multicultural affairs also presented letters to the students.
Forty-four members of the class are staying in Massachusetts for their residency, and 13 of that number will be on campus at Boston Medical Center. New York is claiming the next largest contingent of 23 members of the class and California will be home to 21 newly minted BUSM graduates for the next four years. Texas, Washington state, Maryland, Connecticut and Pennsylvania will also be receiving members of the Class of 2012.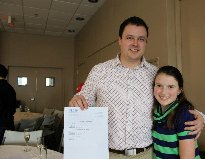 Internal medicine is the choice of 20 percent of the class, followed by family medicine with 11 percent, pediatrics at 10 percent, and emergency medicine and anesthesiology at 9 percent each.
Zi Huang '12 from New York City was very pleased as he matched at North Shore Long Island, his number one choice. "Here at BUSM, they really train you so well and are dedicated to your learning," said Huang. "They're so attentive to what you think and the faculty here really want you to succeed."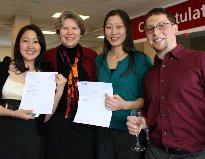 "We have thoroughly enjoyed your class," said Karen Antman, MD, provost of the medical campus and dean of the School of Medicine. "You were already accomplished on your arrival and you have done some pretty remarkable things here as well. In your first week on campus at the white coat ceremony, the faculty welcomed you to the study of medicine. In another two months, we will welcome you to the practice of medicine. On behalf of the deans and faculty, congratulations on your accomplishments."
According to the Association of American Medical Colleges, the number of applicants in this year's Main Residency Match rose by 642 for a total of 38,377 participants, an increase of more than 2,400 over the last five years. These individuals applied for 26,772 positions, an increase of 614 over 2011. This total includes 146 positions in child neurology, which joined the Match this year. Internal medicine, anesthesiology and emergency medicine saw the largest increases in 2012, and emergency medicine filled every available position. The number of family medicine positions increased only slightly (1.1 percent) following notable increases over the last two years.