Neil Ruderman, M.D., Ph.D.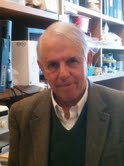 Professor of Medicine
Direct Contact: nrude@bu.edu
Publications Positions and Honors
My laboratory has had a long-standing interest in how disorders of fuel metabolism cause disease.  Historically our research focused on mechanisms by which exercise could alter fuel metabolism and in doing so diminish the likelihood of developing type 2 diabetes and its vascular complications.  In recent years this interest has led us to study two molecules, AMPK and SIRT1, and the hypothesis that their dysregulation could be a cause of the metabolic syndrome and a target for its therapy.  In addition, this has led us into studies of obesity in bariatric surgery patients, for which I recently received an R24 seed grant from the NIH. Over the past 40 years, I have trained approximately 50 fellows including many award-winning scientists and leaders in the diabetes-metabolism field and for this received the Renold award of the American Diabetes Association in 2006.