Steven K. Feske, M.D.
Associate Professor of Neurology Vice Chair for Education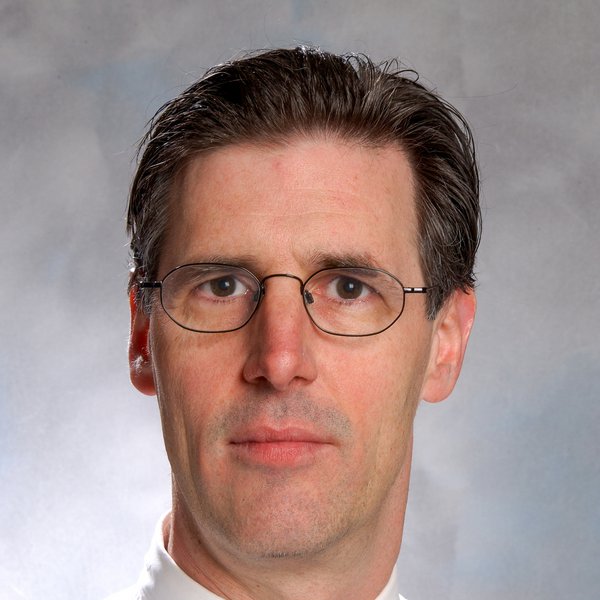 Title

Associate Professor of Neurology
Vice Chair for Education

Office

Shapiro Building, 725 Albany St., 7th floor, Boston, MA 02118

Phone

617-638-5350

Education

Internship: Boston University Hospital, Boston, MA
Residency: Harvard Longwood Neurology Program, Boston, MA
Steven K. Feske, MD is the Vice Chair for Education of the Department of Neurology. He received his medical degree from Louisiana State University. He completed his internship in Internal Medicine at Boston University Hospital, followed by his residency in Neurology at the Harvard Longwood Program, also serving as chief resident. Dr. Feske has extensive experience and expertise as a clinical neurologist with specific expertise in the area of stroke and cerebrovascular disease and critical care neurology, as an award-winning teacher of students, residents, fellows, and peers in neurology, and as a clinical researcher and trialist in the areas of stroke pathophysiology and epidemiology and therapeutic trials relevant to stroke.  He has a record of leadership in clinical work, teaching, and research, and an extensive record of publication.
Areas of interest: Neurocritical Care, Neurology, Vascular Neurology
Board Certifications: Neurology, Vascular Neurology
Awards
Dr. Steven Feske received "Attending Educator of the Year Award" for 2021-2022 in recognition of his outstanding dedication to resident teaching.
Recent Publications:
Feske SK. Ischemic Stroke. Am J Med. 2021 Aug 26:S0002-9343(21)00512-X. doi: 10.1016/j.amjmed.2021.07.027. Epub ahead of print. PMID: 34454905.
Das AS, Regenhardt RW, Patel N, Feske SK, Bevers MB, Vaitkevicius H, Izzy S. Diffuse Cerebral Edema After Moyamoya Disease-Related Intracerebral Hemorrhage: A Case Report. Neurohospitalist. 2021 Jul;11(3):251-254. doi: 10.1177/1941874420980611. Epub 2020 Dec 10. PMID: 34163552.
Sreekrishnan A, Ong CJ, Mahajan R, Prescott B, Smirnakis SM, Bevers MB, Feske SK, Snider SB. Subcortical Sparing Associated with Ambulatory Independence after Hemicraniectomy for Malignant Infarction. J Stroke Cerebrovasc Dis. 2021 Aug;30(8):105850. doi: 10.1016/j.jstrokecerebrovasdis.2021.105850. Epub 2021 May 14. PMID: 34000606.
Bernier TD, Schontz MJ, Izzy S, Chung DY, Nelson SE, Leslie-Mazwi TM, Henderson GV, Dasenbrock H, Patel N, Aziz-Sultan MA, Feske S, Du R, Abulhasan YB, Angle MR. Treatment of Subarachnoid Hemorrhage-associated Delayed Cerebral Ischemia With Milrinone: A Review and Proposal. J Neurosurg Anesthesiol. 2021 Jul 1;33(3):195-202. doi: 10.1097/ANA.0000000000000755. PMID: 33480639.
Izzy S, Tahir Z, Cote DJ, Al Jarrah A, Roberts MB, Turbett S, Kadar A, Smirnakis SM, Feske SK, Zafonte R, Fishman JA, El Khoury J. Characteristics and Outcomes of Latinx Patients With COVID-19 in Comparison With Other Ethnic and Racial Groups. Open Forum Infect Dis. 2020 Sep 1;7(10):ofaa401. doi: 10.1093/ofid/ofaa401. PMID: 33088846.
Sun ZE, Smirnakis S, Feske S. Blood Pressure Thresholds During Endovascular Therapy in Ischemic Stroke. JAMA Neurol. 2020 Dec 1;77(12):1578-1579. doi: 10.1001/jamaneurol.2020.3816. PMID: 33044516.
Sheriff F, Castro P, Kozberg M, LaRose S, Monk A, Azevedo E, Li K, Jafari S, Rao S, Otite FO, Khawaja A, Sorond F, Feske S, Tan CO, Vaitkevicius H. Dynamic Cerebral Autoregulation Post Endovascular Thrombectomy in Acute Ischemic Stroke. Brain Sci. 2020 Sep 16;10(9):641. doi: 10.3390/brainsci10090641. PMID: 32948073.
Barra ME, Feske SK, Sylvester KW, Ong C, Culbreth SE, Krause P, Henderson GV, Rybak E. Fibrinogen Concentrate for the Treatment of Thrombolysis-Associated Hemorrhage in Adult Ischemic Stroke Patients. Clin Appl Thromb Hemost. 2020 Jan-Dec;26:1076029620951867. doi: 10.1177/1076029620951867. PMID: 32946279.
Sharma R, Zachrison KS, Viswanathan A, Matiello M, Estrada J, Anderson CD, Etherton M, Silverman S, Rost NS, Feske SK, Schwamm LH. Trends in Telestroke Care Delivery: A 15-Year Experience of an Academic Hub and Its Network of Spokes. Circ Cardiovasc Qual Outcomes. 2020 Mar;13(3):e005903. doi: 10.1161/CIRCOUTCOMES.119.005903. Epub 2020 Mar 4. PMID: 32126805.
Sheriff F, Diz-Lopes M, Khawaja A, Sorond F, Tan CO, Azevedo E, Franceschini MA, Vaitkevicius H, Li K, Monk AD, Michaud SL, Feske SK, Castro P. Microemboli After Successful Thrombectomy Do Not Affect Outcome but Predict New Embolic Events. Stroke. 2020 Jan;51(1):154-161. doi: 10.1161/STROKEAHA.119.025856. Epub 2019 Dec 4. PMID: 31795906.
Dhand A, Lang CE, Luke DA, Kim A, Li K, McCafferty L, Mu Y, Rosner B, Feske SK, Lee JM. Social Network Mapping and Functional Recovery Within 6 Months of Ischemic Stroke. Neurorehabil Neural Repair. 2019 Nov;33(11):922-932. doi: 10.1177/1545968319872994. Epub 2019 Sep 15. PMID: 31524080.
Lorenzano S, Rost NS, Khan M, Li H, Batista LM, Chutinet A, Green RE, Thankachan TK, Thornell B, Muzikansky A, Arai K, Som AT, Pham LD, Wu O, Harris GJ, Lo EH, Blumberg JB, Milbury PE, Feske SK, Furie KL. Early molecular oxidative stress biomarkers of ischemic penumbra in acute stroke. Neurology. 2019 Sep 24;93(13):e1288-e1298. doi: 10.1212/WNL.0000000000008158. Epub 2019 Aug 27. PMID: 31455665.
Das AS, Regenhardt RW, Feske SK, Gurol ME. Treatment Approaches to Lacunar Stroke. J Stroke Cerebrovasc Dis. 2019 Aug;28(8):2055-2078. doi: 10.1016/j.jstrokecerebrovasdis.2019.05.004. Epub 2019 May 28. PMID: 31151838.
Dhand A, Luke D, Lang C, Tsiaklides M, Feske S, Lee JM. Social networks and risk of delayed hospital arrival after acute stroke. Nat Commun. 2019 Mar 14;10(1):1206. doi: 10.1038/s41467-019-09073-5. PMID: 30872570.
Feske SK, Bushnell C. Stroke prevention: How low can you go? Neurology. 2019 Jan 22;92(4):159-160. doi: 10.1212/WNL.0000000000006802. Epub 2018 Dec 26. PMID: 30587517.
Camargo EC, Feske SK, Singhal AB. Stroke in Pregnancy: An Update. Neurol Clin. 2019 Feb;37(1):131-148. doi: 10.1016/j.ncl.2018.09.010. PMID: 30470272.
Das AS, Lerner DP, Mason XL, Aziz-Sultan MA, Vaitkevicius H, Feske SK, Izzy S. Clinical Reasoning: Moyamoya disease masquerading as acute refractory cerebral vasospasm. Neurology. 2018 Aug 7;91(6):e594-e598. doi: 10.1212/WNL.0000000000005952. PMID: 30082446.
Izzy S, Rubin DB, Ahmed FS, Akbik F, Renault S, Sylvester KW, Vaitkevicius H, Smallwood JA, Givertz MM, Feske SK. Cerebrovascular Accidents During Mechanical Circulatory Support: New Predictors of Ischemic and Hemorrhagic Strokes and Outcome. Stroke. 2018 May;49(5):1197-1203. doi: 10.1161/STROKEAHA.117.020002. Epub 2018 Apr 11. PMID: 29643259.