Shama Farooq, MD
Assistant Professor of Neurology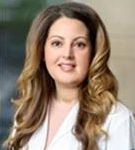 Title

Assistant Professor of Neurology

Office

Shapiro Building, 725 Albany St., 7th floor, Boston, MA 02118

Phone

617-638-8456

Education

Medical School: Khyber Medical University
Internship: University of Illinois at Chicago
Residency: University of Illinois at Chicago
Fellowship: Memorial Sloan Kettering Cancer Center
Board Certifications: Neurology
Special Interests: Primary Brain Tumors, Glioblastoma Multiforme, Astrocytoma, Oligodendroglioma, Meningoma, Ependymoma, Hemangiopericytoma, Brain Metastasis, Leptomeningeal carcinomatosis, CNS Lymphoma
Publications
Noch EK, Sait SF, Farooq S, Trippett TM, Miller AM. A case series of extraneural metastatic glioblastoma at Memorial Sloan Kettering Cancer Center. Neurooncol Pract. 2021 Feb 3;8(3):325-336. doi: 10.1093/nop/npaa083. PMID: 34055380; PMCID: PMC8153825.
Cruz ML, Farooq S, Testai FD. Neurological and Neurosurgical Emergencies in Patients with Hematological Disorders. Curr Neurol Neurosci Rep. 2017 Mar;17(3):24. doi: 10.1007/s11910-017-0728-z. PMID: 28283960.
Farooq S, Testai FD. Neurologic Complications of Sickle Cell Disease. Curr Neurol Neurosci Rep. 2019 Feb 28;19(4):17. doi: 10.1007/s11910-019-0932-0. PMID: 30820687.
Rahman KU, Rahman S, Khan A, Khan NA, Khan FU, Khan RA, Farooq S, Khan H. Assessing the complications and effectiveness of open carpal tunnel release in a tertiary care centre in a developing country. Int J Surg Case Rep. 2014;5(4):209-11. doi: 10.1016/j.ijscr.2014.02.007. Epub 2014 Feb 22. PMID: 24667074; PMCID: PMC3980520.