Rose M. Domingo-Horne, MD
Assistant Professor of Neurology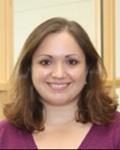 Title

Assistant Professor of Neurology

Office

VA Boston Healthcare System (12C) 150 S. Huntington Street Boston, MA 02130

Education

St. George's University, MD
University of Notre Dame, BA
Rose M. Domingo-Horne, MD is an Assistant Professor of Neurology at Boston University School of Medicine and a Lecturer in Neurology at Harvard Medical School. 
Board Certifications: Neurology and Neuromuscular Medicine.
Publications
Salajegheh MK, Domingo-Horne RM. The Reply. Am J Med. 2018 Nov; 131(11):e485. PMID: 30392646.
Domingo-Horne RM, Salajegheh MK. An Approach to Myopathy for the Primary Care Clinician. Am J Med. 2018 Mar; 131(3):237-243. PMID: 29074094.
Domingo-Horne RM. Delayed radiation-induced lumbosacral radiculoplexus neuropathy – a diagnostic dilemma. Neurol Disord Therap. 2017; 1.
Domingo RM, Haller JS, Gruenthal M. Infant botulism: two recent cases and literature review. J Child Neurol. 2008 Nov; 23(11):1336-46. PMID: 18984848.