Neil W. Kowall, MD
Professor of Neurology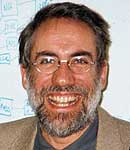 Title

Professor of Neurology

Office

VA Boston Healthcare System (12C) 150 S. Huntington Street Boston, MA 02130

Phone

781-687-2632

Education

Medical School: University of British Columbia, Canada (1979)
Residency: Massachusetts General Hospital, Boston, MA (1984)
Fellowship: Neurology, Massachusetts General Hospital, Boston, MA (1985)
Neil W. Kowall, MD was born in Calgary, Canada and graduated with his MD from the University of British Columbia. He moved to Boston for postgraduate training in Internal Medicine at the Beth Israel Deaconess Hospital followed by a Neurology residency at Massachusetts General Hospital. After finishing his clinical training, he completed a postdoctoral research fellowship and was appointed Assistant Professor of Neurology at Massachusetts General Hospital and Harvard Medical School. He moved to the VA and Boston University in 1992 where he is currently Professor of Neurology and Pathology, Chief of Neurology at VA Boston Healthcare System, Director of the VA New England Geriatric Research Education and Clinical Center and Director of the NIH-funded Boston University Alzheimer's Disease Center. He has published over 199 original reports. His major research interests are human neuroanatomy and neuropathology and the use of animal models to test novel therapies for neurodegenerative diseases including Alzheimer's disease. Dr. Kowall's research interests include the following: human neuroanatomy, immunocytochemistry and enzyme histochemistry of the brain, neuropathological basis of neurological disorders, animal models of neurological diseases, geriatric neurology, and cognitive decline in the elderly.
Board Certifications: Neurology
Special Interests: Developmental Neurology, Alzheimer's Disease, Neuropathology
Awards
Dr. Kowall has received various awards, including the following: two Medical Research Council Studentship awards, the Russel Prize in Anatomy, the Hamber Prize in Medicine, the Bristol Medical Prize in Pharmacology, the Merck Scholarship in Medical Therapeutics, the Mead Prize in Pediatrics, the FIRST Award (R29) from National Institute of Neurological Disorders and Stroke, the Moore Award for Best Paper on Clinicopathological Correlation from the American Association of Neuropathologists, two Director's Special Quality Awards/Commendations from the Bedford VAMC, and the Zenith Award from the Alzheimer's Association.
Recent Publications:
Alosco ML, Sugarman MA, Besser LM, Tripodis Y, Martin B, Palmisano JN, Kowall NW, Au R, Mez J, DeCarli C, Stein TD, McKee AC, Killiany RJ, Stern RA. A Clinicopathological Investigation of White Matter Hyperintensities and Alzheimer's Disease Neuropathology. J Alzheimers Dis. 2018;63(4):1347-1360. doi: 10.3233/JAD-180017. PubMed PMID: 29843242.
Alosco ML, Mez J, Tripodis Y, Kiernan PT, Abdolmohammadi B, Murphy L, Kowall NW, Stein TD, Huber BR, Goldstein LE, Cantu RC, Katz DI, Chaisson CE, Martin B, Solomon TM, McClean MD, Daneshvar DH, Nowinski CJ, Stern RA, McKee AC. Age of first exposure to tackle football and chronic traumatic encephalopathy. Ann Neurol. 2018 May;83(5):886-901. doi: 10.1002/ana.25245. PubMed PMID: 29710395.
Nicolas A, Kenna KP, Renton AE, Ticozzi N, Faghri F, Chia R, Dominov JA, Kenna BJ, Nalls MA, Keagle P, Rivera AM, van Rheenen W, Murphy NA, van Vugt JJFA, Geiger JT, Van der Spek RA, Pliner HA, Shankaracharya, Smith BN, Marangi G, Topp SD, Abramzon Y, Gkazi AS, Eicher JD, Kenna A; ITALSGEN Consortium, Mora G, Calvo A, Mazzini L, Riva N, Mandrioli J, Caponnetto C, Battistini S, Volanti P, La Bella V, Conforti FL, Borghero G, Messina S, Simone IL, Trojsi F, Salvi F, Logullo FO, D'Alfonso S, Corrado L, Capasso M, Ferrucci L; Genomic Translation for ALS Care (GTAC) Consortium, Moreno CAM, Kamalakaran S, Goldstein DB; ALS Sequencing Consortium, Gitler AD, Harris T, Myers RM; NYGC ALS Consortium, Phatnani H, Musunuri RL, Evani US, Abhyankar A, Zody MC; Answer ALS Foundation, Kaye J, Finkbeiner S, Wyman SK, LeNail A, Lima L, Fraenkel E, Svendsen CN, Thompson LM, Van Eyk JE, Berry JD, Miller TM, Kolb SJ, Cudkowicz M, Baxi E; Clinical Research in ALS and Related Disorders for Therapeutic Development (CReATe) Consortium, Benatar M, Taylor JP, Rampersaud E, Wu G, Wuu J; SLAGEN Consortium, Lauria G, Verde F, Fogh I, Tiloca C, Comi GP, Sorarù G, Cereda C; French ALS Consortium, Corcia P, Laaksovirta H, Myllykangas L, Jansson L, Valori M, Ealing J, Hamdalla H, Rollinson S, Pickering-Brown S, Orrell RW, Sidle KC, Malaspina A, Hardy J, Singleton AB, Johnson JO, Arepalli S, Sapp PC, McKenna-Yasek D, Polak M, Asress S, Al-Sarraj S, King A, Troakes C, Vance C, de Belleroche J, Baas F, Ten Asbroek ALMA, Muñoz-Blanco JL, Hernandez DG, Ding J, Gibbs JR, Scholz SW, Floeter MK, Campbell RH, Landi F, Bowser R, Pulst SM, Ravits JM, MacGowan DJL, Kirby J, Pioro EP, Pamphlett R, Broach J, Gerhard G, Dunckley TL, Brady CB, Kowall NW, Troncoso JC, Le Ber I, Mouzat K, Lumbroso S, Heiman-Patterson TD, Kamel F, Van Den Bosch L, Baloh RH, Strom TM, Meitinger T, Shatunov A, Van Eijk KR, de Carvalho M, Kooyman M, Middelkoop B, Moisse M, McLaughlin RL, Van Es MA, Weber M, Boylan KB, Van Blitterswijk M, Rademakers R, Morrison KE, Basak AN, Mora JS, Drory VE, Shaw PJ, Turner MR, Talbot K, Hardiman O, Williams KL, Fifita JA, Nicholson GA, Blair IP, Rouleau GA, Esteban-Pérez J, García-Redondo A, Al-Chalabi A; Project MinE ALS Sequencing Consortium, Rogaeva E, Zinman L, Ostrow LW, Maragakis NJ, Rothstein JD, Simmons Z, Cooper-Knock J, Brice A, Goutman SA, Feldman EL, Gibson SB, Taroni F, Ratti A, Gellera C, Van Damme P, Robberecht W, Fratta P, Sabatelli M, Lunetta C, Ludolph AC, Andersen PM, Weishaupt JH, Camu W, Trojanowski JQ, Van Deerlin VM, Brown RH Jr, van den Berg LH, Veldink JH, Harms MB, Glass JD, Stone DJ, Tienari P, Silani V, Chiò A, Shaw CE, Traynor BJ, Landers JE. Genome-wide Analyses Identify KIF5A as a Novel ALS Gene. Neuron. 2018 Mar 21;97(6):1268-1283.e6. doi: 10.1016/j.neuron.2018.02.027. PubMed PMID: 29566793; PubMed Central PMCID: PMC5867896.
Tagge CA, Fisher AM, Minaeva OV, Gaudreau-Balderrama A, Moncaster JA, Zhang XL, Wojnarowicz MW, Casey N, Lu H, Kokiko-Cochran ON, Saman S, Ericsson M, Onos KD, Veksler R, Senatorov VV Jr, Kondo A, Zhou XZ, Miry O, Vose LR, Gopaul KR, Upreti C, Nowinski CJ, Cantu RC, Alvarez VE, Hildebrandt AM, Franz ES, Konrad J, Hamilton JA, Hua N, Tripodis Y, Anderson AT, Howell GR, Kaufer D, Hall GF, Lu KP, Ransohoff RM, Cleveland RO, Kowall NW, Stein TD, Lamb BT, Huber BR, Moss WC, Friedman A, Stanton PK, McKee AC, Goldstein LE. Concussion, microvascular injury, and early tauopathy in young athletes after impact head injury and an impact concussion mouse model. Brain. 2018 Feb 1;141(2):422-458. doi: 10.1093/brain/awx350. PubMed PMID: 29360998; PubMed Central PMCID: PMC5837414.
Lee J, Kim Y, Liu T, Hwang YJ, Hyeon SJ, Im H, Lee K, Alvarez VE, McKee AC, Um SJ, Hur M, Mook-Jung I, Kowall NW, Ryu H. SIRT3 deregulation is linked to mitochondrial dysfunction in Alzheimer's disease. Aging Cell. 2018 Feb;17(1). doi: 10.1111/acel.12679. Epub 2017 Nov 11. PubMed PMID: 29130578; PubMed Central PMCID: PMC5771400.
Ashendorf L, Alosco ML, Bing-Canar H, Chapman KR, Martin B, Chaisson CE, Dixon D, Steinberg EG, Tripodis Y, Kowall NW, Stern RA. Clinical Utility of Select Neuropsychological Assessment Battery Tests in Predicting Functional Abilities in Dementia. Arch Clin Neuropsychol. 2017 Nov 8:1-11. doi: 10.1093/arclin/acx100. [Epub ahead of print] PubMed PMID: 29126099.
Friedman MJ, Huber BR, Brady CB, Ursano RJ, Benedek DM, Kowall NW, McKee AC; Traumatic Stress Brain Research Group. VA's National PTSD Brain Bank: a National Resource for Research. Curr Psychiatry Rep. 2017 Aug 25;19(10):73. doi: 10.1007/s11920-017-0822-6. Review. PubMed PMID: 28840457.
Mez J, Daneshvar DH, Kiernan PT, Abdolmohammadi B, Alvarez VE, Huber BR, Alosco ML, Solomon TM, Nowinski CJ, McHale L, Cormier KA, Kubilus CA, Martin BM, Murphy L, Baugh CM, Montenigro PH, Chaisson CE, Tripodis Y, Kowall NW, Weuve J, McClean MD, Cantu RC, Goldstein LE, Katz DI, Stern RA, Stein TD, McKee AC. Clinicopathological Evaluation of Chronic Traumatic Encephalopathy in Players of American Football. JAMA. 2017 Jul 25;318(4):360-370. doi: 10.1001/jama.2017.8334. PubMed PMID: 28742910; PubMed Central PMCID: PMC5807097.