Manisha Thakore-James, MD
Assistant Professor of Neurology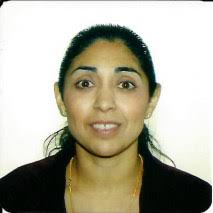 Title

Assistant Professor of Neurology

Office

VA Boston Healthcare System, 150 S Huntington Avenue, Jamaica Plain, MA 02130

Education

Medical School: SUNY Health Science Center at Brooklyn, NY (1991)
Internship: North Shore University Hospital/Cornell University Medical College(1992)
Residency: Boston University Medical Center, Boston, MA (1995)
Fellowship: Geriatric Neurophysiology, Boston University Medical Center/Boston VAMC, Boston, MA (1997)
Board Certifications: American Board of Psychiatry and Neurology, Neuromuscular Medicine, American Board of Electrodiagnostic Medicine
Special Interests: Disorders of the nerve and muscle system, such as myasthenia gravis, ALS, peripheral neuropathy, muscular dystrophies in adults and others.
Awards
Dr. Manisha Thakore-James is the recipient of the Golden Brain Award for 2013. This award is presented annually by the BU medical students on Neurology clerkship and it is in recognition of Dr. Thakore's excellence in teaching and devotion to students.
Recent Publications
Lazzari AA, Dussault PM, Thakore-James M, Gagnon D, Baker E, Davis SA, Houranieh AM. Prevention of bone loss and vertebral fractures in patients with chronic epilepsy-Antiepileptic drug and osteoporosis prevention trial. Epilepsia. 2013 Nov; 54(11):1997-2004.
Kishan AU, Syed S, Fiorito-Torres F, Thakore-James M. Shoulder pain and isolated brachial plexopathy. BMJ Case Rep. 2012; 2012.
Michaelides C, Thakore-James M, Durso R. Reversible withdrawal dyskinesia associated with quetiapine. Mov Disord. 2005 Jun; 20(6):769-70.
Antiepileptic Drugs and the risk for Bone Loss in a Male Veteran Population. Poster presented at the 2006 American College of Rheumatology Meeting.
Bone Health in Males with Epilepsy. Poster presented at the American Epilepsy Society Meeting 12/04 in New Orleans.
Benefits and harms of doxycycline treatment for Gulf War veterans' illnesses: a randomized, double-blind, placebo- controlled trial. Annals of Internal Medicine. 141(2):85-94(2004).
Cognitive Behaviorial Therapy and aerobic exercise for Gulf War Veterans' Illnesses: a randomized controlled trial. Journal of the American Medical Association. 289(11):1396-404(2003).
A Multicenter Two by Two Factorial Trial of Cognitive Behavioral Therapy and Aerobic Exercise for Gulf War Veterans' Illnesses: Design of a Veteran's Affairs Cooperative Study (#470).  Controlled Clinical Trials: 22:310-322(2001).