Katelyn C.K. Bird, MD
Assistant Professor of Neurology Neurology Clerkship Director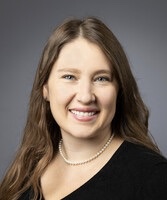 Title

Assistant Professor of Neurology
Neurology Clerkship Director

Office

Shapiro Building, 725 Albany St., 7th floor, Boston, MA 02118

Phone

617-638-8456

Education

Medical School: Indiana University School of Medicine
Internship: Preliminary Medicine at Boston University Medical Center
Residency: Neurology at Boston University Medical Center
Fellowship: Movement Disorders at Boston University Medical Center
Board Certifications: American Board of Psychiatry and Neurology
Special Interests: Parkinson's disease; Atypical Parkinsonism; Tremor; Dystonia; Huntington's Disease; Ataxia; Functional Movement Disorders; Deep Brain Stimulation for Movement Disorders; Botulinum Toxin Injections for Movement Disorders; Clinical Trials; Student, Resident, and Fellow Education; Health Disparities Research; Global Health
Awards:
Dr. Bird is the recipient of the Golden Brain Fellow Award for 2019-2020. This award is presented annually by the BU medical students on Neurology clerkship and is in recognition of Dr. Bird's excellence in teaching and devotion to students.
Publications:
Bird K, Saint-Hilaire M, Curiale G, O'Shea SA. Development of Hypertrophic Olivary Degeneration following Pontine Hemorrhage. Ann Neurol. 2020;87(6):809-810. doi:10.1002/ana.25742.
Rudra JS, Sun T, Bird KC, Daniels MD, Gasiorowski JZ, Chong AS, Collier JH. Modulating adaptive immune responses to peptide self-assemblies. ACS Nano. 2012 Feb 28;6(2):1557-64. doi: 10.1021/nn204530r. Epub 2012 Jan 30.