Elizabeth Vassey, PsyD
Assistant Professor of Neurology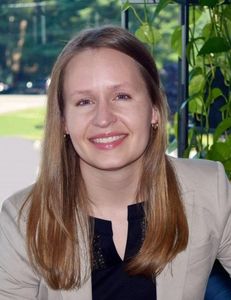 Title

Assistant Professor of Neurology
Dr. Elizabeth Vassey completed her undergraduate degree in Psychology from Mars Hill College and earned her Master's and Doctoral degrees in Clinical Psychology in the Department of Behavioral Medicine from Midwestern University (MWU). While at MWU, Dr. Vassey completed diagnostic, clinical, and advanced clinical training specializing in psychotherapy and behavioral medicine at Loyola University Medical Center Stritch School of Medicine in the Department of Psychiatry and Behavioral Neurosciences and Alexian Brothers Behavioral Health Hospital. She completed her Pre-doctoral Clinical Fellowship with a specialty in Clinical Neuropsychology at The Memory Clinic (Clinical Neurosciences Research Associates) as the primary placement of the Southwestern Vermont Psychology Consortium. Dr. Vassey completed her Postdoctoral Fellowship in Clinical Neuropsychology from the Department of Neurology at the Boston University Alzheimer's Disease Center (BU ADC), Boston University School of Medicine under the supervision of Dr. Robert Stern and joined its faculty in 2014. In addition to her appointment at the BU ADC, Dr. Vassey is the Associate Director of the Boston Center for Memory (BCM), a multi-specialty diagnostic and treatment center for patients with Alzheimer's disease and other dementias. At BCM, Dr. Vassey is responsible managing and coordinating the clinical and research administrative operations of the center.
Clinical Interests
Dr. Vassey's principle clinical interest is the intersection between behavioral medicine approaches and clinical neuropsychology in treating patients with Alzheimer's disease, related dementias and other neurodegenerative diseases.
Research Interests
Dr. Vassey has served as an investigator in multiple clinical research trials in pharmacotherapy and treatments for Alzheimer's disease and provides rater training for neuropsychological instruments used as outcome measures in clinical research.
ADC Role
Dr. Vassey is an Investigator of the ADC's Clinical Core and specializes in Clinical Neuropsychology and Behavioral Medicine. She contributes to clinical consensus diagnoses interpreting neuropsychological test results for ADC participants. She also collaborates with center investigators educating patients regarding clinical research opportunities.
Memberships
Dr. Vassey is a member of the International Neuropsychological Society, Alzheimer's Association International Society to Advance Alzheimer's Research and Treatment, Society of Behavioral Medicine, and the American Psychological Association, Division 38 and Division 40 (Health Psychology & Clinical Neuropsychology).
Publications
Solomon TM, Leech J, deBros GB, Murphy CA, Budson AE, Vassey EA, Solomon PR. A randomized, double-blind, placebo controlled, parallel group, efficacy study of alpha BRAIN® administered orally. Hum Psychopharmacol. 2016 Mar;31(2):135-43. doi: 10.1002/hup.2520. Epub 2016 Feb 15.
O'Connor MK, Deason RG, Reynolds E, Tat MJ, Flannery S, Solomon PR, Vassey EA, Budson AE. The imagination inflation effect in healthy older adults and patients with mild Alzheimer's disease. Neuropsychology. 2015 Jul;29(4):550-60. doi: 10.1037/neu0000195. Epub 2015 Apr 20.