Ariel H. Marks, MD
Assistant Professor of Neurology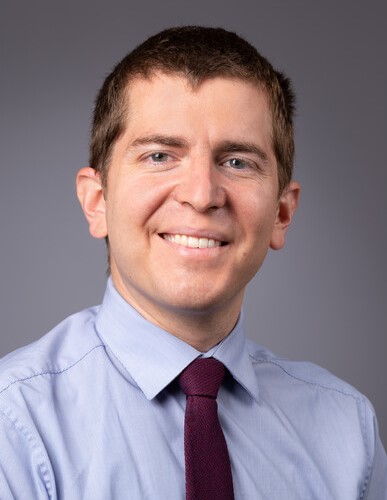 Title

Assistant Professor of Neurology

Office

Shapiro Building, 725 Albany St., 7th floor, Boston, MA 02118

Phone

617-638-8456

Education

Medical School: Temple University School of Medicine
Internship: Boston University Medical Center
Residency: Boston University Medical Center
Fellowship: Neuromuscular Medicine at Massachusetts General Hospital and Brigham and Women's Hospital
Ariel Marks, MD is a practicing neurologist at Boston Medical Center and an assistant professor of Neurology at Boston University School of Medicine. He received his degree in medicine at Temple University School of Medicine in Philadelphia, PA, and completed his neurology residency training at Boston Medical Center in Boston, MA. He completed a 1-year fellowship in neuromuscular medicine at Massachusetts General Hospital and Brigham and Women's Hospital in Boston, MA before returning to Boston Medical Center as faculty. His passion is clinical excellence, including diagnosis and management of disorders of the nerves and muscles; electrodiagnostics with nerve conduction studies and EMG; and diagnosis and management of functional neurological disorders. He is also deeply involved with medical education, regularly lecturing and mentoring residents and medical students, and with quality improvement, serving as the director of quality improvement for the department of neurology.
Board Certifications: Neurology; candidate for certification in Neuromuscular Medicine and Electrodiagnostic Medicine
Special Interests: peripheral neuropathy, neuromuscular junction disorders, electrodiagnostic medicine, medical student education
Awards: 
Golden Brain Award for Excellence in Medical Student Education 2022
Golden Brain Award for Excellence in Medical Student Education 2019
Excellence in Residency Curriculum Development and Wellness Award 2019
Gold Humanism Honor Society 2014-present
Publications:
Lau KHV, Kaku MC, Marks A, Tang C, Zhou L, Siao P. Optimizing the operation of an electrodiagnostic laboratory during the COVID-19 pandemic: A 6-month single-center experience. Muscle Nerve. 2021 Jun 15. doi: 10.1002/mus.27352. Epub ahead of print.
Marks, Ariel H. "Chapter 27: Nerve Conduction Studies and Electromyography." Pocket Neurology , by M. Brandon Westover et al. 3rd Ed., under review for publication
Marks, Ariel, et al. "Peripartum Anesthesia in Grand-Grand Multiparous Women (≥10 Births)." Health Care for Women International , vol. 31, no. 10, 16 Sept. 2010, pp. 938–945., doi:10.1080/07399332.2010.503291.