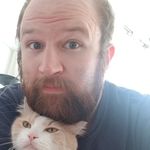 Title

Ph.D student – Zaia Lab

Education

Bachelors of Engineering in Applied Mathematics & Statistics and Biomedical Engineering (Molecular and Cellular Bioengineering) from Stony Brook University, Class of 2016
Bioinformatics Doctorate Program, Boston University- Present

Office

Zaia Lab

Email

wehacket@bu.edu

Area of Study

Bioinformatics, glycoproteomics, and quality assessments
I'm a senior Bioinformatics PhD Student studying N-glycosylation in the Zaia Lab. I did my undergrad at Stony Brook University on Long Island in New York in Biomedical Engineering and Applied Math and then came straight to BU for grad school. I live with my partner and my cat while doing computational research and tool development and play Dungeons and Dragons with friends in my free time.
Representative Publications