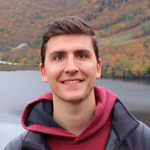 Title

Graduate student—Garcia-Marcos Lab

Education

BS in Neuroscience, Ursinus College

Office

K206

Email

rjanicot@bu.edu

Area of Study

G-protein signaling
I was born in Paris (France) and grew up in Europe until I was 18. After graduating high school, I moved to America to pursue my passion for basketball while continuing high level studies. I played collegiate basketball and earned my bachelor's at Ursinus College, a small school around Philadelphia where I graduated from in 2018. After that incredible experience, I worked at Johns Hopkins in Baltimore as a research assistant investigating mechanisms and treatments for pediatric epilepsy. Although I had obviously always been interested in science, my experience at Hopkins convinced me that I wanted to be a full-time researcher, which is what brought me into the exceptional BU research community.
As a member of the Garcia-Marcos lab, the focus of my research is to investigate heterotrimeric G-proteins and their regulation. The clinical importance of this research is evident, as over 35% of FDA approved drugs target G-protein coupled receptors (GPCRs). The lab has established multiple models and developed tools to precisely measure G-protein activity in the cell. These tools can be used to develop a better understanding of how G-proteins get activated and regulated. While I did not have a biochemistry background before rotating in this lab, I was drawn by the clear pharmacological and clinical impacts that my research can have.
Publications
Shao L-R, Janicot R & Stafstrom CE. 2021. Na+-K+-ATPase Functions in the Developing Hippocampus: Regional Differences in CA1 and CA3 Neuronal Excitability and Role in Synchronous Network Bursting. Journal of Neurophysiology, vol. 125(1), 1-11. doi: 10.1152/jn.00453.2020
Janicot R, Stafstrom CE & Shao L-R. 2020. The Efficacy of Fructose-1,6-Bisphosphate in Suppressing Status Epilepticus in Developing Rats. Epilepsy Research, vol. 168, 106500. doi: 10.1016/j.eplepsyres.2020.106500
Janicot R, Stafstrom CE & Shao L-R. 2020. 2-Deoxyglucose Terminates Pilocarpine-induced Status Epilepticus in Neonatal Rats. Epilepsia, vol. 61(7), 1528-37. doi: 10.1111/epi.16583
Janicot R, Shao L-R & Stafstrom CE. 2020. Infantile Spasms: An update on Pre-clinical Models and EEG Mechanisms. Children, vol. 7(1), 5. doi: 10.3390/children7010005
Loomis C, Stephens A, Janicot R, Baqai U, Drebushenko L & Round J. 2020. Identification of MAGUK scaffold proteins as intracellular binding partners of synaptic adhesion protein Slitrk2. Molecular and Cellular Neuroscience, vol. 103, 103465. doi: 10.1016/j.mcn.2019.103465