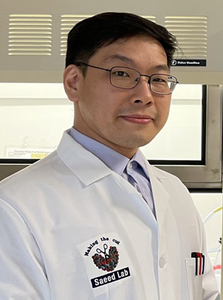 Title

Postdoctoral Associate – Saeed Lab

Education

Ph. D. – Virus Research Unit, Department of Microbiology and Immunology, University of Otago, New Zealand

M. Sc. – Graduate Institution of Veterinary Public Health, National Chung Hsing University, Taichung, Taiwan

B. V. M.- Department of Veterinary Medicine, College of Veterinary Medicine, National Chung Hsing University, Taichung, Taiwan
Research Interests

Office

501E/Saeed Lab/NIEDL

Area of Interest

Virology, Microbiology, Molecular Biology
I am a Postdoctoral Associate in the laboratory of Dr. Mohsan Saeed at Boston University School of Medicine and the National Emerging Infectious Diseases Laboratories (NEIDL) of Boston University. Born and raised in Taiwan, I obtained my Ph.D. in Microbiology from the University of Otago, New Zealand, where my research focused on poxviral ankyrin repeat proteins and their host cellular binding partners. We found that this family of viral proteins interacts with cellular FIH-1, a negative regulator of hypoxia response pathway and alters the activation of hypoxia-inducible factor in infected cells. I then switched gears to work on influenza virus and identified a cellular scaffolding protein, cortactin, as a cleavage target of caspase proteases in infected cells. The resulting depletion of cortactin accelerated influenza virus replication, especially affecting the assembly and budding of infectious virus particles. These studies broadened my experience with viruses of the Orthomyxoviridae and Poxviridae families.
I joined the Saeed lab in February 2020, around the same time when SARS-CoV-2 started making headlines around the world. Although my original research project was focused on enteroviruses, the lab pivoted to SARS-CoV-2 research in April 2020, and I immediately joined in. I have since been involved in several studies investigating host responses to SARS-CoV-2 infection and testing various chemical compounds for their inhibitory activity against SARS-CoV-2 in cell-based infection assays. In my recent first-author publication, we demonstrated the ability of SARS-CoV-2 to block interferon signaling by downregulating the proximal components of the Jak/STAT pathway. I am now following up on these observations and trying to delineate the molecular mechanisms that underlie the immune-antagonizing properties of SARS-CoV-2. In parallel, I am also studying SARS-CoV-2 evolution in the commonly used, naturally susceptible Vero E6 cells versus human cell lines engineered to support high levels of virus infection.
In addition to SARS-CoV-2 research, I am investigating the role of viral and cellular proteases in viral infection and pathogenesis. To this end, I employ systems-level strategies, such as proteomics, proximity-labeling, and loss-of-function screens. Having identified potential candidates from these broad "fishing" explorations, I then take targeted molecular biology approaches to dissect the functional significance of select hits followed by their detailed mechanistic analysis. These studies have begun to provide novel insights into the functions of proteolytic activity, derived both from viral and host proteases, in viral diseases.
Outside of the lab (although it's rare), I love reading Sci-Fi/Fantasy novels, listening to music, photography, hiking, and sometimes simply walking around to get a bit of fresh air.
Publications