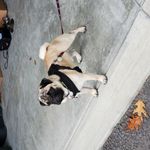 Title

Lab Mascot

Education

Puppy happiness Degree (PhD) from Everydog Training Center

Office

K201

Email

nclau@bu.edu

Area of Interest

Bones, squirrels, fire hydrants, blueberries, other dogs.
I'm a pure-breed male from parents Neville and Molly, both of champion lineage from Felzar Pugs. I'm a very attentive guard pug. Beware of my bark.