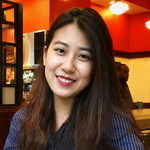 Title

Graduate Student – Varelas Lab

Education

BSc. in Applied biology, Hong Kong Baptist University
MS. in Biotechnology, University of Pennsylvania

Office

K621

Email

cncarina@bu.edu

Area of Interest

T-cell biology
As a graduate student in the Varelas Lab, my primary research focuses on the Hippo signaling pathway in T cells, investigating the role of several major Hippo pathway components on T cell behavior and development.
Immunotherapies have emerged as a promising treatment option for various diseases, particularly cancer. One of the major challenges facing current immunotherapies is sustaining T cell activation and recruitment in immunosuppressive tumors. I use both in vitro and in vivo mouse models to study the effect of the Hippo pathway on T cell behavior, with the ultimate goal of developing immunotherapies that have a better T cell response, specifically in immunosuppressive cancers such as melanoma. In addition, I am investigating the effect of the Hippo pathway in T cell responses to viral/bacterial infections. I hope that a better understanding of this mechanism will help to improve immunotherapies for various diseases.
I received my B.Sc. in Applied Biology, with a minor in Business, at Hong Kong Baptist University, during which time I conducted research in the laboratory of Dr. Chris Wong. My project focused on the role of Stanniocalcin-1 (STC1) in Unfolded Protein Response (UPR) of human nasopharyngeal carcinoma. Through this experience, I developed passion for both basic biological research and translational science. After I graduated from college, I came to the United States to pursue my master's degree at University of Pennsylvania where I had the opportunity to work in Dr. Quing Chen's lab studying the role of astrocytes in brain metastatic cancer cells. There, I developed a 3D cancer cells and astrocytes co-culture spheroid assay to better mimic the physiological condition. In addition to lab experience, I was also a member of the Penn Biotech Group (PBG) Healthcare Consulting Organization where I participated in several consulting projects, involving drug development and market assessment, with SAI MedPartners and Flagship ventures. My strong interests in biomedical sciences motivated me to pursue doctoral degree at Boston University's School of Medicine. During the course of my PhD I plan to refine essential research skills including grant writing, presentation, laboratory techniques, and data analysis. I hope that research conducted during my stay at Boston University can be used to improve disease treatment options and contribute to an improved quality of life.
Publications:
Stampouloglou E, Cheng N, Federico A, Slaby E, Monti S, Szeto GL, Varelas X. Yap suppresses T-cell function and infiltration in the tumor microenvironment. PLoS Biol. 2020 Jan 13;18(1):e3000591. doi: 10.1371/journal.pbio.3000591. PMID: 31929526; PMCID: PMC6980695.
Zou Y, Watters A, Cheng N, Perry CE, Xu K, Alicea GM, Parris JLD, Baraban E, Ray P, Nayak A, Xu X, Herlyn M, Murphy ME, Weeraratna AT, Schug ZT, Chen Q. Polyunsaturated Fatty Acids from Astrocytes Activate PPARγ Signaling in Cancer Cells to Promote Brain Metastasis. Cancer Discov. 2019 Dec;9(12):1720-1735. doi: 10.1158/2159-8290.CD-19-0270. Epub 2019 Oct 2. PMID: 31578185; PMCID: PMC6891206.