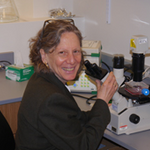 Title

Associate Professor
Director of Biochemistry Graduate Studies
Assistant Dean, GMS Alumni Affairs

Education

PhD: Microbiology, Boston University

Office

K207

Email

schreibe@bu.edu

Phone

617-358-4404

Area of Interest

Research interests: inflammation & ECM, vascular biology
Research focuses on studying the role of inflammation on aortic smooth muscle cell function. A major focus has been studying the impact of acute phase serum amyloid A on the development of atherosclerosis.  Most recently, efforts have been directed at evaluating the role of periodontal disease on the vasculature with an eye toward poor birth outcomes.
Dr. Schreiber is also the director of the Program in Biomedical Sciences (PiBS), director of graduate studies in the Biochemistry department, co-PI on the BU's BEST (Boston University's Boston University Broadening Experiences in Scientific Training) award and PI on TOTAL (Training Opportunities To Augment Learning).
Representative Publications