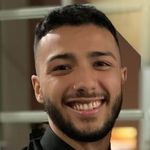 Title

Research Technician- Lau lab

Education

Widener University in May 2021 – B.S in Biology.

Office

K219

Email

austinr@bu.edu

Phone

(617) 358-4402

Area of Interest

Genetics/Genome editing, Transposable Elements, Virology
Born and raised in an up-and-coming town in New Jersey I developed a passion for learning all things science in my early years of high school. I pursued an education in biological science when I attended a small private school just outside of Philadelphia, PA. There I was involved in undergraduate research, working with fruit fly embryos, where I investigated upregulation of CNS proteins after inflicting nerve cord trauma.
Now in the Lau lab I get to apply what I learned in my undergraduate education to continue research on fruit flies. Here in the Lau lab we study the PIWI/piRNA pathway, which is important in transposon silencing and preservation of animal genomes. The focus of my work is in generating mutant lines from the flamenco locus, which arise via CRISPR editing, and determine the effects these mutations may have on female fertility/sterility.
When I'm not at the lab I enjoy playing video games and immersing myself in Japanese animation/manga.