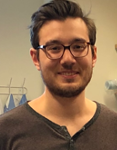 Title

Graduate student—Layne lab

Education

B.S. Biology, Stonehill College

Office

Layne Lab, K219

Area of Interest

mechanisms of fibrosis
vascular progenitor cell fate
I received my B.S. in biology from Stonehill College in 2015, where my undergraduate research focused on behavioral ecology and social cooperation in aquatic systems. In 2017, I joined the lab of Dr. Bruce Levy at Brigham and Women's Hospital as a research technician. During this time, I had the opportunity to help elucidate the roles of bioactive lipid molecules that orchestrate the resolution of inflammation using disease models for asthma and acute respiratory distress syndrome. It was also during this time that I discovered my interests in biochemistry and cell signaling.
I joined the lab of Dr. Matt Layne as a graduate student during the Spring of 2022. In the Layne Lab, my research is focused on the interplay between fibrosis and adipogenesis in stromal-vascular adipocyte progenitor cells. In particular, I am interested in how aortic carboxypeptidase-like protein (ACLP), a pro-fibrotic extracellular matrix protein, regulates these cell fate decisions at the early and late stages of progenitor differentiation at the molecular and cellular levels.
I am thankful for being part of the immersive scientific community at Boston University and continue to look forward to the many opportunities that it will offer me as I pursue my Ph.D.
Publications
Levy BD, Abdulnour RE, Tavares A, et al. Cysteinyl maresins regulate the prophlogistic lung actions of cysteinyl leukotrienes. J Allergy Clin Immunol. 2020;145(1):335-344. doi:10.1016/j.jaci.2019.09.028

Tavares AH, Colby JK, Levy BD, Abdulnour RE. A Model of Self-limited Acute Lung Injury by Unilateral Intra-bronchial Acid Instillation. J Vis Exp. 2019;(150):10.3791/60024. Published 2019 Aug 30. doi:10.3791/60024

Abdulnour RE, Howrylak JA, Tavares AH, et al. Phospholipase D isoforms differentially regulate leukocyte responses to acute lung injury. J Leukoc Biol. 2018;103(5):919-932. doi:10.1002/JLB.3A0617-252RR