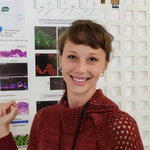 Title

Graduate Student – Varelas Lab

Education

BS, University of Denver

Office

K621

Email

matschua@bu.edu

Area of Interest

Lung epithelial biology
I graduated from the University of Denver with a major in molecular biology and minors in chemistry and psychology. After graduating, I had the opportunity to work as a technician at National Jewish Health and the University of Colorado Anschutz Medical Campus where I studied lung development and response after influenza infection and antigenic targets in multiple sclerosis, respectively. It was during my time in these labs where I developed a passion for translational science and knew that graduate school would be a necessary next step that would equip me with the skills I would need to be a successful future investigator.
At BUSM, I was fortunate to have rotated in three exceptional labs, but found my home in the Varelas lab where I knew I would have the opportunity to not only work on an exciting and rewarding project, but that I would also get to work alongside other passionate and enthusiastic scientists. I also have enjoyed being a part of the Biochemistry department where I have been exposed to many great resources and a community dedicated to helping students and staff prosper. Being a part of this department has been invaluable so far in my graduate school career as I have received support from my mentor as well as many others in the department, which is vital to both my future as a scientist and to the completion of my PhD project studying cell fate in the airway epithelium.
The airway is composed of a variety of cell types that make up the pseudostratified epithelium and the organization of these cells offers our lungs with the first line of defense against potentially harmful environmental insults that we breath. It is therefore important to understand how the organization of these cells is maintained and how this impacts cell function. Basal cells are considered to be the resident stem cells of the airway as these cells have the ability to both self-renew and differentiate into other cells that make up the  pseudostratified epithelium and aberrant growth of these cells is a hallmark of many airway associated diseases, such as  Chronic Obstructive Pulmonary Disease (COPD), Cystic Fibrosis (CF) and Squamous Cell Carcinoma (SCC). As a graduate student in the Varelas laboratory,  I am interested in understanding the molecular mechanisms that regulate basal cell maintenance and activity and I am studying how the Hippo pathway, a tumor suppressor pathway, influences basal cell fate and maintenance in the airway epithelium. I am excited that this project will be supported by my recently funded NIH F31 and hope that with a greater understanding of the mechanisms that influence  growth and maintenance of basal cells, my research will one day be used to improve therapies for patients suffering from certain devastating airway diseases.

Representative Publications