Who We Are
Boston Coalition for Adult Immunization: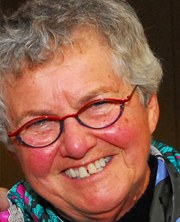 Anna Bissonnette, RN, MS
Director
A registered nurse for over 52 years, Ms. Bissonnette is also the founder of the Hearth, an organization dedicated to ending elder homelessness and the Boston Coalition for Adult Immunization.  Her most recent work was as a public health nurse and faculty member at Boston University Medical School home medical service.  She currently serves on the advisory council for the City of Boston's Commission on Elder Affairs and Homeless Planning Committee; the Visiting Nurse Association of Boston; and the LGBT Aging Project.  A nurse dedicated to public service, she also serves on the board of numerous community agencies, including those she has founded, and she has been widely published.  Since 1993, she has received numerous awards including the Robert Wood Johnson Foundation's Community Health Leadership Award; the Boston Ethical Society's Humanitarian of the Year Award; the American Public Health Association's Community Service Award, the Massachusetts Health Council's Community Service Award; the Massachusetts Public Health Association's Advocacy Award and most recently the Massachusetts Association of Registered Nurses Living Legend Award.  This award recognizes nurses who have made significant lifetime contributions to the profession of nursing on a state, national or international level.
Carolyn J. Dolan, RNC, MS, ANP
President of the Board
Ms. Dolan is a nurse practitioner at the Caritas Carney Hospital in Dorchester, Massachusetts.  Ms. Dolan began her career in the orthopedic specialty  unit and today she works collaboratively with a group of primary care physicians in the ambulatory setting at Carney.  Ms. Dolan is currently the president of the board at BCAI and conducts student trainings for the Harvard medical students.  She oversees approximately twenty-five student clinics during the flu season.  In 2003, Masspro and the Massachusetts Coalition honored her for her immunization work with culturally diverese populations for Adult Immunization.  Most recently, in November of 2007, she was presented with the President's Award at the 23rd Annual Caritas Carney Foundation Awards Dinner.
Suzanne Sarfaty, M.D.
BCAI Medical Director
Dr. Suzanne Sarfaty is a BCAI board member and the Assistant Dean for Academic Affairs at Boston University School of Medicine, as well as Director of International Health Programs and Associate Professor of Medicine.  In addition to her academic roles, Dr. Sarfaty practices as a general internist at the East Boston Neighborhood Health Center.  Dr. Sarfaty plays a key role in overseeing the training of the student coordinators.  In addition she provides meeting space and support for student coordinators; assists with the visibility and leadership of the program; advise on current CDC changes; assists in the development of student training materials and serves on the Board of Directors at BCAI.  Dr. Sarfaty was also one of the first students trained at the BCAI flu program at BU when it first began.
2012 – 2013 BCAI BUSM Student Coordinators

Tom Shin, BUSM 2015
Gregory Fenton, BUSM 2015
Matthew McAdams, BUSM 2015
busmBCAI@gmail.com