Orian S. Shirihai, M.D.,Ph.D.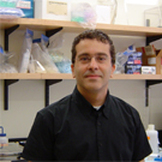 Assistant Professor of Medicine
Direct Contact: oshirihai1@bu.edu
Publications Positions and Honors
My laboratory is studying mitochondria in disease models including metabolic and cardiovascular. In the past ten years the lab has focused on the study of the interaction between mitochondria through fusion and fission events and the role of mitochondrial architecture in bioenergetics. The lab has established an array of assays for the study of islet mitochondrial bioenergetic functions. The lab is known for its development of key imaging approaches to quantify mitochondrial dynamics, motility and membrane potential. Using these methodologies to study mitochondrial dynamics we described the life cycle of the mitochondria, and the role of continuous fusion and fission dynamics in the maintenance of bioenergetic capacity and efficiency. The lab played a pivotal role in the development of cutting edge technology for high throughput respirometry in collaboration with Seahorse Bioscience. I am the founder of the mtARC (Mitochondria-Affinity Research Collaborative) which provides guidance in the mitochondrial science to the members of the Boston scientific community. The lab has trained over 10 post doctoral fellows, of which three have been recruited as faculty in academic institutions, and two are founders of new biotech companies.