David M. Center, M.D.
Professor of Pulmonary Medicine, Medicine, and Biochemistry, Chief of Allergy, Pulmonary, and Critical Care Medicine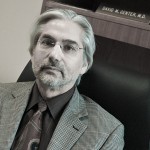 Direct Contact: dcenter@bu.edu
Publications Positions and Honors
David Center has been the PI of NIH funded research since 1978 including the university's largest T32 award funding both pre and post doctoral trainees. He is the PI of Boston University's CTSA and director of the Clinical and Translational Science Institute, since its inception in 2008. He serves as Associate Provost for Translational Research at Boston University and as such is charged with facilitating all forms of Translational Research ranging from T1/T2 idea development, training and education and facilitating research involvement in the Community. His individual research is focused on the biologic effects of Interleukin 16 as an immunomodulatory cytokine in inflammation. His lab studies the T cell cycle and models of airway hyper reactivity.