Karl Karlson, M.D.
Karl Karlson, M.D.
Contact: Karl.Karlson@bmc.org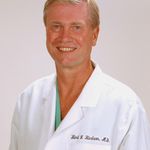 As a clinical cardiac surgeon, I am frequently confronted with the problems of revascularization of the ischemic heart. Coronary artery bypass grafting is often employed to deliver new blood supply to the myocardium, but occasionally the anastomoses fail because of the development of neointimal hyperplasia and fibrosis where vessel connections are constructed. Using nanotechnology to deliver agents to the site of the anastomoses could be a game changer in terms of graft patency.
Transmyocardial laser revascularization of the heart has been shown to trigger neovascularization in underperfused regions of the myocardium not amenable to standard revascularization. The prospect of using nanotechnology to deliver growth factor or other agents in a targeted fashion to the area of the laser channels may help to achieve a quantum increase in the benefit realized from the laser surgery.