Myriam Abdennadher, MD
Assistant Professor of Neurology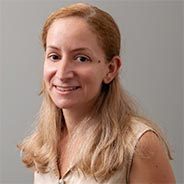 Title

Assistant Professor of Neurology

Office

Shapiro Building, 725 Albany St., 7th floor, Boston, MA 02118

Phone

617-638-8456

Education

Medical School: Faculte de Medecine Et de Pharmacie de Tunis, Tunisia (2008)
Internship: University of Texas Southwestern in Austin, Austin TX (2014)
Residency: University of Texas in Austin, Austin TX (2017)
Fellowship: Fellow in Clinical Neurophysiology, National Capital Consortium at National Institutes of Health, Bethesda MD (2018)
Fellow in Epilepsy, National Capital Consortium at National Institutes of Health, Bethesda MD (2019)
Board certification: Neurology
Honors
2016 University of Texas in Austin Dell Medical School: Resident-Chief for academic and research
2015 University of Texas in Austin Dell Medical School: Resident Teacher of the Year
Recent Publications:
Cervantes-Arslanian A, Lau KHV, Anand P, Shulman JG, Ford T, Takahashi C, Daneshmand A, Nguyen TN, Suchdev K, Abdennadher M, Saxena A, Macone A, Perloff M, Zhu S, Greer DM. Rapid Dissemination of Protocols for Managing Neurology Inpatients with COVID-19. Ann Neurol. 2020 May 12.
Pavlova M, Singh K, Abdennadher M, Katz E, Dworetzky B, White D, Llewellyn N. Comparison of cardiorespiratory and EEG abnormalities with seizures in adults and children. Epilepsy Behav. 2013 Dec;29(3):537-41.
Pavlova M, Abdennadher M, Dworetzky B, Singh K, Katz E, Zarowsly M, White D, Kothare S. Advantages of respiratory monitoring to differentiate epileptic seizures from seizure like events. Epilepsy Behav. 2014 Mar;32:142-4.
Latreille V, Abdennadher M, Dworetzky B, Ramel J, White D, Katz E, Zarowski M, Kothare S and Pavlova M. Nocturnal seizures are associated with more severe hypoxemia and increased risk of postictal generalized EEG suppression.  Epilepsia. 2017 Sep: e127-e131.