Ann McKee, MD
Professor of Neurology and Pathology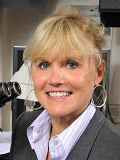 Title

Professor of Neurology and Pathology

Office

BU School of Medicine, 72 E. Concord Street Boston, MA 02118

Phone

617-638-5426

Education

Medical School: Case Western Reserve School of Medicine, Cleveland, Ohio (1979)
Residency: Cleveland Metropolitan General Hospital (1984)
Fellowship: Aging/Dementia, University of Massachusetts Medical Center (1985)
Residency: Chief Resident in Neuropathology, Massachusetts General Hospital (1988)
Residency: Pathology, Massachusetts General Hospital (1989)
Board Certifications: Neurology, Neuropathology
Accolades and Awards
Dr. McKee has received numerous awards in recognition of her work. In 2018, she received a lifetime achievement award for Alzheimer's disease research from the Alzheimer's Association and was named by TIME magazine as one of the "100 Most Influential People in the World."
Dr. McKee is the recipient of the Henry Wisniewski Lifetime Achievement Award in Alzheimer's Research from the Alzheimer's Association for her significant scientific contributions and demonstrated lifelong commitment to progress against Alzheimer's disease and dementia. She was one of three individuals recognized July 24 at the Alzheimer's Association International Conference (AAIC) in Chicago.
In 2016 Dr. Ann McKee was awarded the Boston University School of Medicine Jack Spivack Excellence in Neurosciences Award. Dr. McKee's research has significantly increased our understanding of sports- and military-related concussions and traumatic brain injury.
Research Interests
Dr. McKee's research interests center on the neuropathological alterations of neurodegenerative diseases, with a primary focus on the role of tau protein, axonal injury, trauma, vascular injury, and neurodegeneration. Much of her current work centers on the long-term consequences of repetitive head injury from contact sports and military service. As a board-certified neurologist and neuropathologist, she is particularly interested in the clinical, behavioral and psychological manifestations of pathological disease and the neuroanatomical localization of clinical symptoms. She has written widely on many neurodegenerative diseases including Alzheimer's disease, Lewy Body disease, Parkinson's Disease, Progressive Supranuclear Palsy, Multiple System Atrophy, Frontotemporal Degeneration, Corticobasal Degeneration and Chronic Traumatic Encephalopathy (CTE). She has been an invited participant in several NIH-sponsored workshops on Progressive Supranuclear Palsy, Vascular Dementia and Traumatic Brain Injury. Dr. McKee has unparalleled experience in the neuropathology of Chronic Traumatic Encephalopathy and recently won the Moore Award Honorable Mention for her paper entitled "Chronic Traumatic Encephalopathy of Football Players" at the annual meeting of the American Association of Neuropathologists. Her work has been essential in establishing the neuropathological diagnostic criteria for CTE and for microvascular CNS injury. She is also keenly interested in the neuropathology of normal aging and disorders of the spinal cord.
Recent Publications:
Alosco ML, Sugarman MA, Besser LM, Tripodis Y, Martin B, Palmisano JN, Kowall NW, Au R, Mez J, DeCarli C, Stein TD, McKee AC, Killiany RJ, Stern RA. A Clinicopathological Investigation of White Matter Hyperintensities and Alzheimer's Disease Neuropathology. J Alzheimers Dis. 2018;63(4):1347-1360. doi: 10.3233/JAD-180017.
Alosco ML, Mez J, Tripodis Y, Kiernan PT, Abdolmohammadi B, Murphy L, Kowall NW, Stein TD, Huber BR, Goldstein LE, Cantu RC, Katz DI, Chaisson CE, Martin B, Solomon TM, McClean MD, Daneshvar DH, Nowinski CJ, Stern RA,McKee AC. Age of first exposure to tackle football and chronic traumatic encephalopathy. Ann Neurol. 2018 May;83(5):886-901. doi: 10.1002/ana.25245.
Tagge CA, Fisher AM, Minaeva OV, Gaudreau-Balderrama A, Moncaster JA, Zhang XL, Wojnarowicz MW, Casey N, Lu H, Kokiko-Cochran ON, Saman S, Ericsson M, Onos KD, Veksler R, Senatorov VV Jr, Kondo A, Zhou XZ, Miry O, Vose LR, Gopaul KR, Upreti C, Nowinski CJ, Cantu RC, Alvarez VE, Hildebrandt AM, Franz ES, Konrad J, Hamilton JA, Hua N, Tripodis Y, Anderson AT, Howell GR, Kaufer D, Hall GF, Lu KP, Ransohoff RM, Cleveland RO, Kowall NW, Stein TD, Lamb BT, Huber BR, Moss WC, Friedman A, Stanton PK, McKee AC, Goldstein LE. Concussion, microvascular injury, and early tauopathy in young athletes after impact head injury and an impact concussion mouse model. Brain. 2018 Feb 1;141(2):422-458. doi: 10.1093/brain/awx350.
Mufson EJ, He B, Ginsberg SD, Carper BA, Bieler GS, Crawford F, Alvarez VE, Huber BR, Stein TD, McKee AC, Perez SE. Gene Profiling of Nucleus Basalis Tau Containing Neurons in Chronic Traumatic Encephalopathy: A Chronic Effects of Neurotrauma Consortium Study. J Neurotrauma. 2018 Jun 1;35(11):1260-1271. doi: 10.1089/neu.2017.5368. Epub 2018 Apr 5.
McKee AC, Mez J, Abdolmohammadi B. Chronic Traumatic Encephalopathy in Football Players-Reply. JAMA. 2017 Dec 19;318(23):2353. doi: 10.1001/jama.2017.16687.
Alosco ML, Koerte IK, Tripodis Y, Mariani M, Chua AS, Jarnagin J, Rahimpour Y, Puzo C, Healy RC, Martin B, Chaisson CE, Cantu RC, Au R, McClean M, McKee AC, Lin AP, Shenton ME, Killiany RJ, Stern RA. White matter signal abnormalities in former National Football League players. Alzheimers Dement (Amst). 2017 Nov 6;10:56-65. doi: 10.1016/j.dadm.2017.10.003. eCollection 2018.
Kenney K, Iacono D, Edlow BL, Katz DI, Diaz-Arrastia R, Dams-O'Connor K, Daneshvar DH, Stevens A, Moreau AL, Tirrell LS, Varjabedian A, Yendiki A, van der Kouwe A, Mareyam A, McNab JA, Gordon WA, Fischl B, McKee AC, Perl DP. Dementia After Moderate-Severe Traumatic Brain Injury: Coexistence of Multiple Proteinopathies. J Neuropathol Exp Neurol. 2018 Jan 1;77(1):50-63. doi: 10.1093/jnen/nlx101.
Cherry JD, Zeineddin A, Dammer EB, Webster JA, Duong D, Seyfried NT, Levey AI, Alvarez VE, Huber BR, Stein TD, Kiernan PT, McKee AC, Lah JJ, Hales CM. Characterization of Detergent Insoluble Proteome in Chronic Traumatic Encephalopathy. J Neuropathol Exp Neurol. 2018 Jan 1;77(1):40-49. doi: 10.1093/jnen/nlx100.
Lee J, Kim Y, Liu T, Hwang YJ, Hyeon SJ, Im H, Lee K, Alvarez VE, McKee AC, Um SJ, Hur M, Mook-Jung I, Kowall NW, Ryu H. SIRT3 deregulation is linked to mitochondrial dysfunction in Alzheimer's disease. Aging Cell. 2018 Feb;17(1). doi: 10.1111/acel.12679. Epub 2017 Nov 11.
Cherry JD, Stein TD, Tripodis Y, Alvarez VE, Huber BR, Au R, Kiernan PT, Daneshvar DH, Mez J, Solomon TM, Alosco ML, McKee AC. CCL11 is increased in the CNS in chronic traumatic encephalopathy but not in Alzheimer's disease. PLoS One. 2017 Sep 26;12(9):e0185541. doi: 10.1371/journal.pone.0185541. eCollection 2017.
Sours C, Hinds SR 2nd, McKee AC, Perl DP, Leggieri MJ Jr. Brain Banks and Tissue Repositories for Blast-Related Chronic Traumatic Encephalopathy Research. J Neurotrauma. 2017 Sep;34(S1):S4-S5. doi: 10.1089/neu.2017.29014.bb.
Alosco ML, Kasimis AB, Stamm JM, Chua AS, Baugh CM, Daneshvar DH, Robbins CA, Mariani M, Hayden J, Conneely S, Au R, Torres A, McClean MD, McKee AC, Cantu RC, Mez J, Nowinski CJ, Martin BM, Chaisson CE, Tripodis Y, Stern RA. Age of first exposure to American football and long-term neuropsychiatric and cognitive outcomes. Transl Psychiatry. 2017 Sep 19;7(9):e1236. doi: 10.1038/tp.2017.197.
Mahar I, Alosco ML, McKee AC. Psychiatric phenotypes in chronic traumatic encephalopathy. Neurosci Biobehav Rev. 2017 Dec;83:622-630. doi: 10.1016/j.neubiorev.2017.08.023. Epub 2017 Sep 6. Review.
Friedman MJ, Huber BR, Brady CB, Ursano RJ, Benedek DM, Kowall NW, McKee AC; Traumatic Stress Brain Research Group. VA's National PTSD Brain Bank: a National Resource for Research. Curr Psychiatry Rep. 2017 Aug 25;19(10):73. doi: 10.1007/s11920-017-0822-6. Review.
Mez J, Daneshvar DH, Kiernan PT, Abdolmohammadi B, Alvarez VE, Huber BR, Alosco ML, Solomon TM, Nowinski CJ, McHale L, Cormier KA, Kubilus CA, Martin BM, Murphy L, Baugh CM, Montenigro PH, Chaisson CE, Tripodis Y, Kowall NW, Weuve J, McClean MD, Cantu RC, Goldstein LE, Katz DI, Stern RA, Stein TD, McKee AC. Clinicopathological Evaluation of Chronic Traumatic Encephalopathy in Players of American Football. JAMA. 2017 Jul 25;318(4):360-370. doi: 10.1001/jama.2017.8334.
Goldstein LE, McKee AC. Shining (Laser) Light on Traumatic Brain Injury Blood Biomarkers. JAMA Neurol. 2017 Sep 1;74(9):1045-1047. doi: 10.1001/jamaneurol.2017.0800.