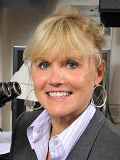 Dr. Ann McKee was named one of seven BU researchers who are impacting and, in some cases, revolutionizing the human experience.
Boston University's research enterprise is booming. Over 4,000 faculty across nearly 1,700 laboratories have catalyzed more scientific and social innovation than ever, attracting a torrent of new grants and funding awards. Last year, they pulled in nearly 20 percent more dollars than the previous year, rocketing BU past half-a-billion dollars in research funding.
Read full article here.