Dr. Nguyen Promoted to Professor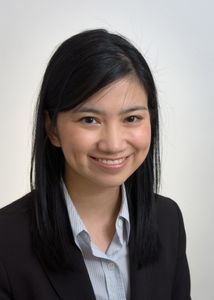 Dr. Thanh Nguyen has been promoted to Professor at Boston University School of Medicine. A graduate of McGill University Faculty of Medicine in Canada, Dr. Nguyen completed her neurology residency at Massachusetts General Hospital (MGH) and Brigham and Women's Hospital in Boston. Following her fellowship in vascular neurology and neurocritical care at MGH, she completed a fellowship in interventional neuroradiology (INR) involving more than 1,000 INR procedures at Centre Hospitalier de l'Universite de Montreal with the internationally renowned experts Jean Raymond and others. She has now been involved in a total of more than 3,000 INR procedures, including more than 500 brain aneurysm interventions (coilings / flow diversion) and 350 acute stroke interventions.
Dr. Nguyen's clinical and research interests include brain aneurysm coiling / flow diversion and acute intra-arterial therapies for stroke. Other clinical interests include neurocritical care, pre-operative embolization for head and neck tumors, carotid and intracranial artery stenosis, subarachnoid hemorrhage, spinal vascular interventions, traumatic carotid and vertebral dissection, vertebroplasty and kyphoplasty for acute spinal fractures.
Dr. Nguyen has authored more than 80 peer-reviewed publications, contributed to national guideline statements and book chapters. 
She was awarded Boston Magazine Top Doctor in Neurology for 2017, 2019, Be Exceptional Award for Boston Medical Center in 2018, and SVIN Distinguished Service Award in 2018. She received the Neurology Golden Brain Attending Award for BU medical student teaching in 2019.
Dr. Nguyen is a model of excellence in academic medicine. We congratulate Professor Nguyen on this amazing career achievement!