Sam Thiagalingam, Ph.D.
Associate Professor of Medicine, Genetics & Genomics and Pathology & Laboratory Medicine
Education
Post-Doctoral Fellow., Sidney Kimmel Comprehensive Cancer Center at Johns Hopkins
Ph.D., The Johns Hopkins University
M.S., Bowling Green State University
B.Sc (Hons.)., University of Jaffna
---
Awards and Honors
2008 Susan G. Komen for the Cure Investigator Initiated Research Award
2006 NARSAD/Brain & Behavior Research Foundation NARSAD Independent Investigator Award – 2006/2007
NARSAD Dr. Walter F. Nichols Investigator
2001 USAMRMC Career Development Award, Department of Defense BCRP
2000 Smith Family Foundation/The Medical Foundation New Investigator Award (Dolphin Trust Investigator)
---
Graduate Program Affiliations
Genetics & Genomics
Molecular Medicine
Pathology & Laboratory Medicine
Pharmacology & Experimental Therapeutics
Program in Biomedical Sciences (PiBS)
---
Epigenetic regulation of EMT by TGFβ pathway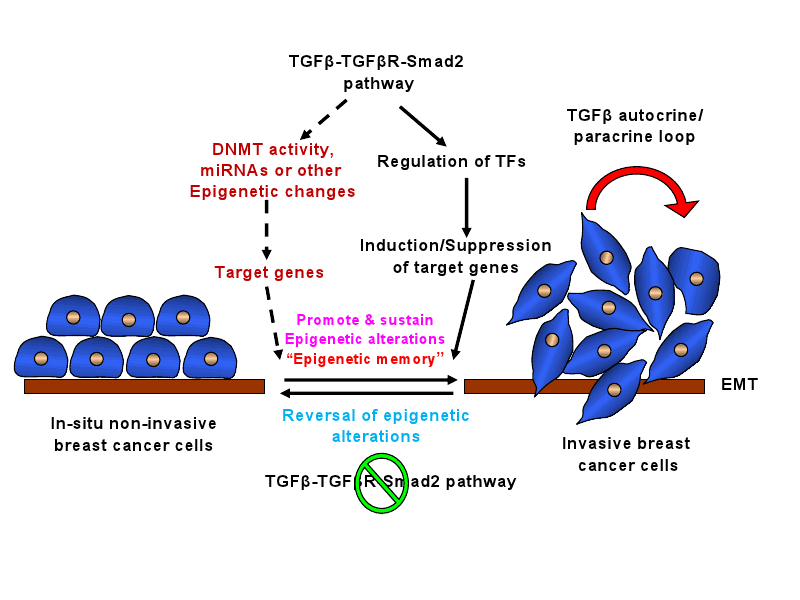 Identification of candidate metastasis suppressor genes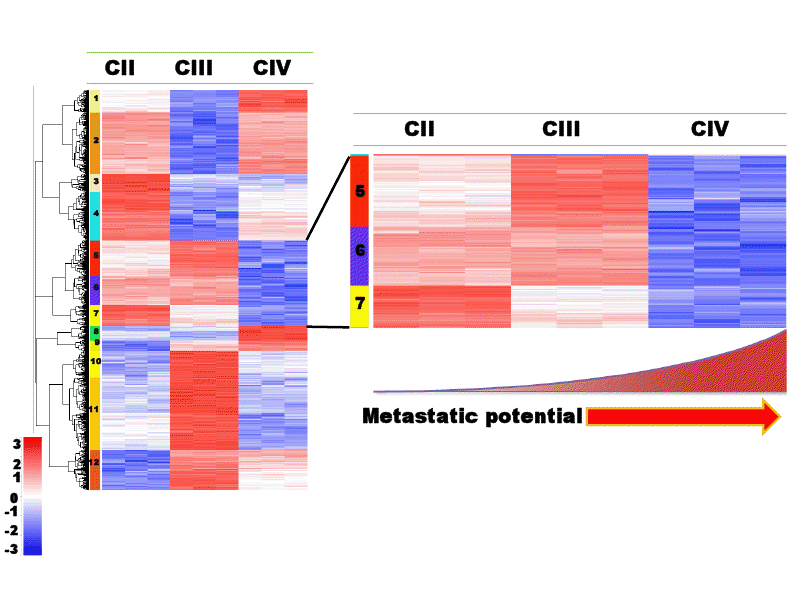 ---
Research Interests
Elucidate the roles of cancer stem cells, epigenetic memory, genomic instability and metastasis suppressor genes in cancer progression and metastasis, identify biomarkers for major psychiatric disorders and develop strategies for personalized therapy.
Dr. Thiagalingam's primary research interest in cancer genomics and biology has been to elucidate multi-modular molecular network (MMMN) cancer progression models as the road map to dissect the complexity inherent to cancer and to design therapeutic strategies. As a post-doctoral fellow, he showed that loss of heterozygosity (LOH) at 18q targeted the SMAD4 gene inactivation in colon cancer. As a result, the multi-step colon cancer progression model (i.e., "Vogelgram") was revised to include SMAD4. Subsequently, he was involved in the identification of a family of five novel SMAD genes. The discovery of SMAD genes provided the missing link between the TGFβ receptors and the downstream signaling end effects. As a faculty member at Boston University School of Medicine, he continued to study the SMAD genes with the goal of deciphering their role(s) in cancer progression. Dr. Thiagalingam's laboratory recently showed that loss of Smad4 enhances the metastatic potential of colon cancer cells by enhancing expression of effectors such as VEGF, MMP9, and GLUT1 with corresponding increases in cell migration, aerobic glycolysis and resistance to 5'-fluoruracil-mediated apoptosis. Additionally, his group also discovered that overactive TGFβ-Smad signaling events are responsible for sustaining the altered cancer epigenome (i.e. "epigenetic memory") to regulate critical target genes involved in breast cancer progression.
In other studies, the Thiagalingam laboratory examined the connection between genomic instability and cancer at the molecular level. Interestingly, while it has been universally believed that defects in spindle assembly checkpoint (SAC) components cause aneuploidy, the Thiagalingam laboratory found that it is not always true. Although depletion of Mad2 significantly induced aneuploidy as expected, the depletion of Bub1 upon activation of SAC primarily triggered p53 dependent cell death suggesting a protective role in preventing the accumulation of aberrant genomic alterations.
In addition to studying various aspects of cancer, Dr. Thiagalingam also became interested in taking an interdisciplinary approach to study other complex diseases such as schizophrenia (SCZ) and bipolar disorder (BD). Since the genetic make-up, along with functional genetic polymorphisms are insufficient by themselves to provide a molecular basis for the pathogenesis of the majority of individuals with major psychiatric disorders such as SCZ and BD, Dr. Thiagalingam teamed up with Dr. Abdolmaleky to study the epigenetic basis of these major psychiatric disorders. Pioneering studies performed in Dr. Thiagalingam's laboratory provided the first conclusive evidence for DNA hypermethylation silencing of reelin (RELN) and hypomethylation associated overexpression of the membrane-bound catechol-O-methyltransferase (MB-COMT) in SCZ and BD.
Dr. Thiagalingam's research efforts are currently focused on the following topics: (i) The TGFβ-Smad signaling connection to breast cancer metastasis/bone metastasis; (ii) Unraveling the molecular basis of epigenetic memory and its role in cancer progression and dormancy; (iii) Signaling events that define cancer stem cells; (iv) Development of therapeutic approaches for breast cancer; (v) The molecular basis of drug resistance in colon cancer and the development of novel therapeutic strategies; (vi) The roles of individual kinetochore proteins in the maintenance of genomic stability and development of therapeutic strategies by targeting kinetochore proteins; and (vii) Correlating genomic and epigenomic alterations in schizophrenia and bipolar disorder to pathogenesis.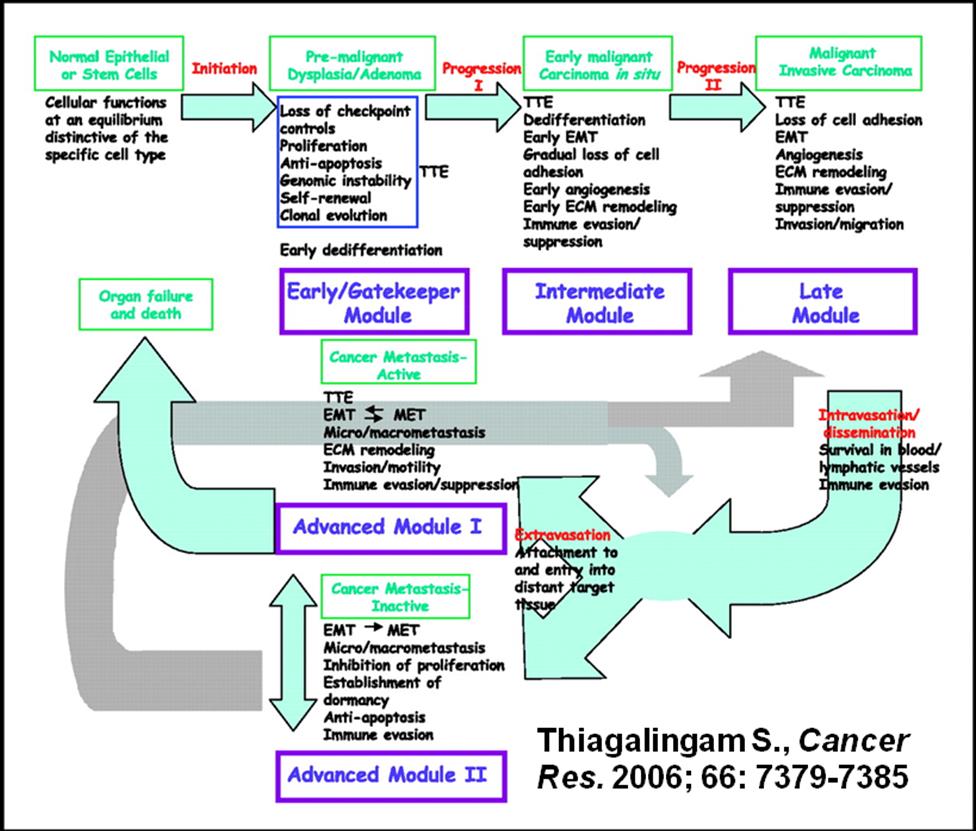 ---
Selected Publications
Lambert, A.W., S. Ozturk and S. Thiagalingam. 2012. Integrin Signaling in Mammary Epithelial Cells and Breast Cancer. ISRN Oncology, 2012:493283.; PMID:22523705, PubMed
Papageorgis, P., K-h. Cheng, S. Ozturk, Y. Gong, A.W. Lambert, H. Abdolmaleky, J-R. Zhou and S. Thiagalingam. 2011. Smad4 inactivation promotes malignancy and drug resistance of colon cancer. Cancer Res. 71(3): 998-1008. PMID: 21245094. PubMed
Abdolmaleky, H., and S. Thiagalingam, 2011. Can schizophrenia epigenome provide clues to the molecular basis of pathogenesis? Epigenomics, 3(6): 679-83; PMID: 22126286. PubMed
Papageorgis, P., A.W. Lambert, S. Ozturk, F. Gao, H. Pan, U. Manne, Y.O. Alekseyev, A. Thiagalingam, H. Abdolmaleky, M. Lenburg, and S. Thiagalingam. 2010. Smad signaling is required for the maintenance of epigenetic gene silencing during breast cancer progression. Cancer Res. 70(3): 968-978. PMID: 20086175. PubMed
Gao, F., J. F. Ponte, M. Levy, P. Papageorgis, N.M. Cook, S. Ozturk, A.W. Lambert, A. Thiagalingam, H. M. Abdolmaleky, B. A. Sullivan and S. Thiagalingam. 2009. hBub1 negatively regulates p53 mediated early cell death upon mitotic checkpoint activation. Cancer Biology & Therapy 8(7): 636-44. (Accompanied with cover illustration). PMID: 19252416. PubMed
Gao, F., J. F. Ponte, P. Papageorgis, M. Levy, S. Ozturk, A.W. Lambert, H. Pan, D. Chinnappan, K-h. Cheng, A. Thiagalingam, H. M. Abdolmaleky and S. Thiagalingam. 2009. hBub1 deficiency triggers a novel p53 mediated early apoptotic checkpoint pathway in mitotic spindle damaged cells. Cancer Biology & Therapy 8(7): 627-35. PMID: 19242126. PubMed
Thiagalingam, S. 2006. A cascade of modules of a network defines cancer progression. Cancer Res. 66: 7379-7385. PMID: 16885330. PubMed
Abdolmaleky, HM., K-h. Cheng, S.V. Faraone, M. Wilcox, S. J. Glatt, F. Gao, C.L. Smith, R. Shafa, B. Aeali, H. Pan, P. Papageorgis, J.F. Ponte, V. Sivaraman, M. Tsuang and S. Thiagalingam. 2006. Hypomethylation of MB- COMT Promoter is a major risk factor for Schizophrenia and Bipolar Disorder. Human Mol. Genet. 15: 3132-3145; PMID: 16984965. PubMed
Pan, H., J. Califano, J. F. Ponte, A.L. Russo, K-h. Cheng, A. Thiagalingam, P. Nemani, D. Sidransky and S. Thiagalingam. 2005. Loss of Heterozygosity Patterns Provide Fingerprints for Genetic Heterogeneity in Multistep Cancer Progression of Tobacco Smoke-Induced Non-Small Cell Lung Cancer. Cancer Res. 65 (5): 1664-1669. PMID: 15753360. PubMed
Abdolmaleky, H., K-h. Cheng, A. Russo, C.L. Smith, S.V. Faraone, R. Shafa, M. Wilcox, S. Glatt, W.S. Stone, G. Nguyen, J.F. Ponte, S. Thiagalingam* and M. Tsuang*. 2005. Hypermethylation of the Reelin (RELN) Promoter in the Brain of Schizophrenic Patients: A Preliminary Report. Am J Med Genet B Neuropsychiatr Genet. 134B: 60-66. (*These authors co-directed and contributed equally to this work); PMID: 15717292. PubMed
Cheng, K-h., J. F. Ponte and S. Thiagalingam. 2004. Elucidation of epigenetic inactivation of SMAD8 in cancer using Targeted Expressed Gene Display. Cancer Res. 64: 1639-1646. PMID: 14996722. PubMed
Thiagalingam, S., K-h.Cheng, H. J. Lee, N. Mineva, A. Thiagalingam, and J. F. Ponte. 2003. Histone deacetylases: Unique players in shaping the epigenetic histone code, Annal. New York Acad. Sci. 983: 86-100; PMID: 12724214. PubMed
Thiagalingam S, Foy RL, Cheng KH, Lee HJ, Thiagalingam A, Ponte JF. 2002. Loss of heterozygosity as a predictor to map tumor suppressor genes in cancer: molecular basis of its occurrence. Curr Opin Oncol. 14(1):65-72. Erratum in: 14(3):374. PMID: 11790983. PubMed
Thiagalingam, S., S. Laken, J. K. V. Willson, S. Markowitz, K. W. Kinzler, B. Vogelstein and C. Lengauer. 2001. The mechanisms underlying losses of heterozygosity in human colorectal cancers. Proc. Natl. Acad. Sci. 98: 2698-2702. PMID: 11226302. PubMed
Thiagalingam, S., C. Lengauer, F. S. Leach, M. Schutte, S. A. Hahn, J. Overhauser, J. K. V. Willson, S. Markowitz, S. R. Hamilton, S. E. Kern, K. W. Kinzler and B. Vogelstein. 1996. Evaluation of candidate tumour suppressor genes on chromosome 18 in colorectal cancers. Nature Genet. 13: 343-346. PMID: 8674044. PubMed
Riggins, J. G., S. Thiagalingam, E. Rozenblum, C. L. Weinstein, S. E. Kern, S. R. Hamilton, J. K. V. Willson, S. Markowitz, K. W. Kinzler and B. Vogelstein. 1996. MAD-related genes in the human. Nature Genet. 13: 347-349. PMID: 8673135. PubMed
Oliner, J. D., J. A. Pietenpol, S. Thiagalingam, K. W. Kinzler, and Vogelstein, B. 1993. Oncoprotein MDM2 conceals the activation domain of p53. Nature 362: 857-862. PMID: 8479525. PubMed
Grossman, L., and S. Thiagalingam. 1993. Nucleotide excision repair, a tracking mechanism in search of damage. J. Biol. Chem. 268: 16871-16874. PMID:8349576. PubMed
Kern, S. E., J. A. Pietenpol, S. Thiagalingam, A. Seymour, K. W. Kinzler and B. Vogelstein. 1992. Oncogenic forms of p53 inhibit p53-regulated gene expression. Science 256: 827-830. PMID: 1589764. PubMed