Mark W. Logue, Ph.D.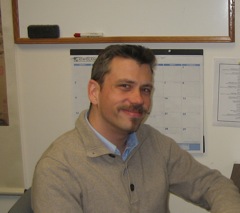 Education
2001-2002 NIMH Post-Doctoral Research Fellow, Psychiatry, University of Iowa, Iowa City IA.
2001 – PhD Statistics – University of Iowa, Iowa City IA.
1996 – MS in Statistics – University of Iowa, Iowa City IA.
1994 – BS in Mathematics – University of Oregon, Eugene OR.
---
Research Interests
My research involves the use of computational tools to search the human genome for genetic variants influencing risk of psychiatric and neurological disorders including panic disorder, post-traumatic stress disorder, and Alzheimer's disease. The genetics of these traits is complex, as multiple genes interact with environmental factors to determine an individual's risk. When studying psychiatric traits, this complexity is compounded because psychiatric disorders are not distinct at the genetic level. For example, genetic variants that increase risk of developing panic disorder may also predispose an individual to bipolar disorder or phobias. To unravel this complexity, information must be integrated from a variety of sources, including families with a multiple affected individuals, large case-control study samples, and samples from different ancestral populations. The type of genetic data that can be examined is similarly diverse and can include microsatellite markers, single nucleotide polymorphisms, and base-pair level sequence data. By leveraging these multiple sources of data, and by using analysis methods that allow for this complexity at both the genetic and trait level, the presence of disease can be correlated with variants across multiple genes. The identification of these variants can implicate new biological systems or molecular pathways which are disrupted, potentially resulting in the development of new biomarkers of disease, new treatments, or personalized therapies based on a patient's genetic profile.
---
Selected Publications
Logue MW, Baldwin C, Guffanti G, Melista E, Wolf EJ, Reardon AF, Uddin M, Wildman D, Galea S, Koenen KC, Miller MW, 2012. A genome-wide association study of post-traumatic stress disorder identifies the retinoid-related orphan receptor alpha (RORA) gene as a significant risk locus. Molecular Psychiatry. advance online publication, 7 August 2012; doi:10.1038/mp.2012.113.
Logue MW, Bauver SR, Knowles JA, Gameroff MJ, Weissman MM, Crowe RR, Fyer AJ, Hamilton SP. 2012. Multivariate analysis of anxiety disorders yields further evidence of linkage to chromosomes 4q21, and 7p in panic disorder families. American Journal of Medical Genetics Part B (Neuropsychiatric Genetics) 159B:247-280.
Fyer AJ, Costa R, Haghighi F, Logue MW, Knowles JA, Weissman MM, Hodge SE, Hamilton SP. 2012. Linkage analysis of alternative anxiety phenotypes in multiply affected panic disorder families. 2012. Psychiatric Genetics 22(3):123-129.
Logue MW, Schu, M, Vardarajan BN, Buros, J, Green RC, Go RCP, Griffith, P, Obisesan, TO, Shatz R, Borenstein A, Cupples, LA, Lunetta KL, Fallin MD, Baldwin CT, Farrer LA, 2011. Genetic Variants at Multiple Loci Influence Alzheimer Disease Risk in African Americans. Archives of Neurology, 68:1569-1579.
Logue MW, Bauver SR, Kremen WS, Franz CE, Eisen SA, Tsuang MT, Grant MD, Lyons MJ. 2011. Evidence of overlapping genetic diathesis of panic attacks and gastrointestinal disorders in a sample of male twin pairs. Twin Research and Human Genetics. 14:16-24.
Logue MW, Posner H, Green RC, Moline M, Cupples LA, Lunetta KL, Zou H, Hurt SW, Farrer LA, DeCarli C. 2011. MRI-measured atrophy and its relationship to cognitive functioning in vascular dementia and Alzheimer's disease patients. Alzheimer and Dementia. 7: 493-500.
Choi SH, Liu C, Dupuis J, Logue MW, Jun G. 2011. Using Linkage Analysis of Large Pedigrees to Guide Association Analyses. BMC Proceedings, 5 (Suppl 9):S79.
Sherva R, Henry R, Kranzler HR, Yu Y, Logue MW, Poling J, Arias AJ, Anton RF, Oslin D, Farrer LA, Gelernter J. 2010. Variation in Nicotinic Acetylcholine Receptor Genes is Associated with Multiple Substance Dependence Phenotypes. Neuropsychopharmacology 35, 1921-1931.
Logue MW, Durner M, Heiman GA, Hodge SE, Hamilton SP, Knowles JA, Fyer AJ, and Weissman MM. 2009. A Linkage Search for Joint Panic Disorder/ Bipolar Genes. American Journal of Medical Genetics Part B (Neuropsychiatric Genetics) 150B:1139-1146.
Logue MW, Li Y. 2008. Computation of the Posterior Probability of Linkage using "High Effect" Genetic Model Priors. Human Heredity 66:25-34.
Logue MW, Brzustowicz LM, Bassett AS, Chow EWC, Vieland VJ. 2006. A Posterior Probability of Linkage-Based Re-Analysis of Schizophrenia Data Yields Evidence of Linkage to Chromosomes 1 and 17. Human Heredity 62: 47-54.
Yang X, Huang J, Logue MW, Vieland VJ. 2005. The Posterior Probability of Linkage Allowing for Linkage Disequilibrium and a New Estimate of Disequilibrium between a Trait and a Marker. Human Heredity 59:210-219.
Logue MW, Vieland VJ. 2004. A New Method for Computing the Multipoint Posterior Probability of Linkage. Human Heredity 57: 90-99.
Bartlett CW, Flax JF, Logue, MW, Smith BJ, Vieland VJ, Tallal P, and Brzustowicz LM. 2004. Examination of Potential Overlap in Autism and Language Loci on Chromosomes 2, 7, and 13 in Two Independent Samples Ascertained for Specific Language Impairment. Human Heredity 57:10-20.
Logue MW, Vieland VJ, Goedken RJ, and Crowe RR. 2003. Bayesian Analysis of a Previously Published Genome Screen for Panic Disorder Reveals New and Compelling Evidence for Linkage to Chromosome 7. American Journal of Medical Genetics Part B (Neuropsychiatric Genetics) 121B:95-99.
Bartlett, CW, Flax JF, Logue MW, Vieland VJ, Bassett AS, Tallal P, and Brzustowicz LM. 2002 A Major Susceptibility Locus for Specific Language Impairment is located on 13q21. American Journal of Human Genetics 71: 45-55.
Vieland VJ, Logue, M. 2002. HLODs, trait models, and ascertainment: Implications of admixture for parameter estimation and linkage detection. Human Heredity 53: 23-35.