Speak, the Movie, Screening and Panel Discussion, Oct. 24
Boston University Medical Campus (BUMC) Toastmasters, located at 72 East Concord  St. is screening the movie, SPEAK, on Wednesday, Oct.24 at 5:30 p.m. as part of the BUMC Toastmasters one year anniversary celebration. There will be a panel discussion following the film, which will be shown in Bakst Auditorium in the Boston University School of Medicine . Please join us for this event providing an RSVP by Oct. 20 to Yolanta Kovalko, VP of Membership, BUMC Toastmasters.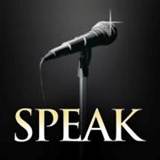 SPEAK , is based on the multi-faceted world of Toastmasters International in which 270,000 people strive to overcome their fear of public speaking. The movie follows six unforgettable finalists in the Toastmasters International Speech Contest as they prepare and compete in a grueling contest to be named "The World Champion of Public Speaking." Katherine Morrison, recently profiled in the Boston Globe, and invited guest to this event, has been on this amazing journey. Katherine describes herself as a very shy child. "The first time I got up to teach a class, I was 22. I thought I was going to vomit. When I was living in Atlanta, I gave a presentation. I was horrible. A woman walked up to me and said, you have potential — but you need a lot of help." She introduced me to Toastmasters."
Toastmasters International is a world leader in communication and leadership development. A Toastmasters meeting is a learn-by-doing workshop in which participants hone their speaking and leadership skills in a no-pressure atmosphere. There is no instructor in a Toastmasters meeting. Instead, members evaluate one another's presentations. This feedback process is a key part of the program's success! BUMC Toastmasters meets on the first and third Thursday of each month in room L-109, 72 East Concord St. from 5-6:15 p.m. BUMC Toastmasters is an unrestrictive, all inclusive club and guests are welcome to attend our regular meetings.