Deborah Vaughan
Professor and Assistant Dean for Admissions, BUSM histology, neuroscience, curriculum development, education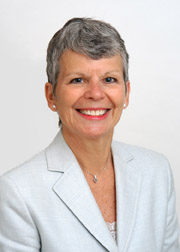 Title

Professor and Assistant Dean for Admissions, BUSM

histology, neuroscience, curriculum development, education

Office

L – 103, BUSM

Email

dvaughan@bu.edu

Phone

617-358-9520
Dr. Vaughan is Professor of Anatomy and Neurobiology. In 2015, she became the inaugural director of the BUSM first-year integrated foundational science course, Principles of Science and Medicine (PrISM). Before the redesign of the first-year medical curriculum, she had been the course director for the highly regarded Medical Histology course, for which she published an interactive atlas (2002) and into which she introduced virtual microscopy in 2005. Dr. Vaughan has also served as one of the core faculty of the Medical Neurosciences course. As an educator, she has received various teaching awards from the medical school, including the Stanley L. Robbins Award for Excellence in Teaching at Boston Medical Center (1999), the medical school's highest teaching award, and Educator-of-the-Year in Preclinical Sciences from the Committee on Faculty Affairs (2001 and 2011). In 2013, Dr. Vaughan was awarded Boston University's highest recognition for Excellence in Teaching, the Metcalf Cup and Prize.
Dr. Vaughan is an Assistant Dean for Admissions for BUSM and has participated in numerous standing and ad hoc committees both at BUSM and nationally, most recently those concerned with medical and graduate education, standards, and curriculum. She co-chairs the Boston University Educational Technologies Committee, one of the BU Information Services & Technology Governance Committees. In 2016 Dr. Vaughan oversaw the creation of the Godley Digital Media Studio at BUMC. Between 2017 and 2019, she served as the Faculty Accreditation Lead for BUSM's LCME accreditation process.
Dr. Vaughan received her doctorate in cell biology from Boston University in 1971 and completed postdoctoral studies with Dr. Alan Peters at BUSM. Her biomedical research activities focused on the effects of advancing age on the central nervous system, in particular, the neurons' ability to respond to peripheral axon injury. Her research expertise includes light and electron microscope techniques in conjunction with pre- and post-embedding immunocytochemistry, enzyme cytochemistry, microscopic and ultramicroscopic morphometry, and serial reconstruction. Following 25 years of NIA-funded research, Dr. Vaughan's professional focus shifted to teaching, learning, and education, with a focus on education technology.