Graduate students received grant to launch urban service group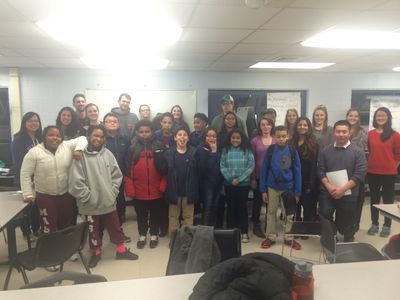 In February, two graduate students from the Department of Anatomy & Neurobiology, Jessica Hill and Julia Lai, received recognition and full grant funding from the Santander Bank-Boston University Urban Impact Program to launch their community initiative within the city of Boston. Educan!, spearheaded by Julia and Jessica, is an urban community service group comprised of 23 BU graduate students. It has received a total of $2,000 to start a pilot growth mindset program this spring for 15 elementary school-aged scholars from Williams Blackstone Elementary School located right in South End.
Every Wednesday from 5-6 PM, for seven weeks, BU graduate student mentors provide 1-on-1 mentorship and support to their young mentees through challenging games and activities to help them become familiar with the importance of a growth mindset in school and in life. The mission of Educan! is to help mentees focus on efforts as opposed to achievements, and to help them foster a growth mindset that they can practice and implement in their daily lives. A fixed mindset is where you believe intelligence is fixed, and no matter how hard you try, you won't get any better at, say, mathematics or basketball; this is one of the most influential misconceptions young students possess that prevents them from putting in more effort in school work when they are already failing. In contrast, growth mindset is "if I put in effort and change my strategy, then I will improve" and "if I encounter a difficult time in school or in life, I ask, 'What can I do differently to find my way ! around it?'"
The first mentoring session took place on February 24th, 2016. The afterschool program director noted that while the Williams Blackstone Elementary School is just 8-minute walking from the Boston University School of Medicine, Julia and Jess are the first group of students from BUSM to reach out to Blackstone to form a community service partnership in the past five years.
With the grant, Educan! is able to support work beyond the BU Med Campus and beyond the BU community. Through their service, Jess and Julia hope to further encourage the BUSM graduate students to step out of the laboratories in their spare time, and to use their unique skill sets to address challenges that their neighbors beyond campus are facing.