Training Requirements
Academic Requirements During the Training
Individual programs of study for the Ph.D. degree are determined by each student in consultation with a faculty advisor (Academic Advisor). Different basic science departments have different course requirements but the basic training program is similar (including courses in Biochemistry, Molecular Biology and Biostatistics) and all Basic Science departments are part of the Division of Graduate Medical Sciences.
An example of a basic science curriculum: During the first year in graduate school, the students take core courses and are involved in pursuing four research rotations (two assigned and two chosen by the student). At the end of the first year, each student chooses a lab to pursue research towards a Ph.D. degree. At the end of the second year, Ph.D. candidates take written and oral qualifying examinations in general areas of biochemistry and molecular biology, the results of which determine whether the student continues in the Ph.D. program. A large selection of courses is available to all graduate students, and the flexibility granted to the student is considered an enriching aspect of the training program. Trainees of this cardiovascular program, as students of a basic science department, would be expected to complete several of the basic and advanced courses as follows: Ph.D. candidates complete 18 point credits in basic/required courses and the rest, up to 26 points (minimum), in advanced courses; M.D.-Ph.D candidates (or Ph.D. candidates with a master's degree) complete 10 credit points in basic/required courses and the rest, up to 14 points (minimum), in advanced courses. The requirements include the courses in basic Molecular Biology and Cell Biology as well as the general Biochemistry course, Biostatistics and a seminar course. These are followed by credit points granted for research in the laboratory until the completion of thesis work. Course work is typically completed within two years.
Presentaiton by a trainnee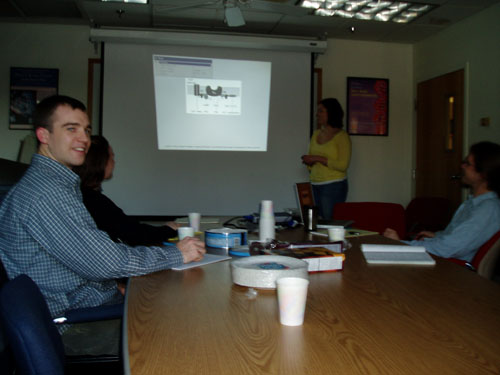 Course Work Related to this Training Program:
The detailed curriculum is outlined in the Graduate Division web link. Also, contact the Director in regard to Cardiovascular Course requirements specific to this program.
In addition, Trainees are expected to participate weekly in seminars related to Cardiovascular Biology, as well as to meet periodically as a group with the program Director. During these sessions the trainees present their work and discuss related topics in the format of a Journal Club.