Jennifer I. Luebke, Ph.D.
Associate Professor
Phone: 617-638-4930
Fax: 617-638-5954
Email: jluebke@bu.edu
Location: Office X-314; Lab: X-317, 650 Albany St., BUSM,
Laboratory of Cellular Neurobiology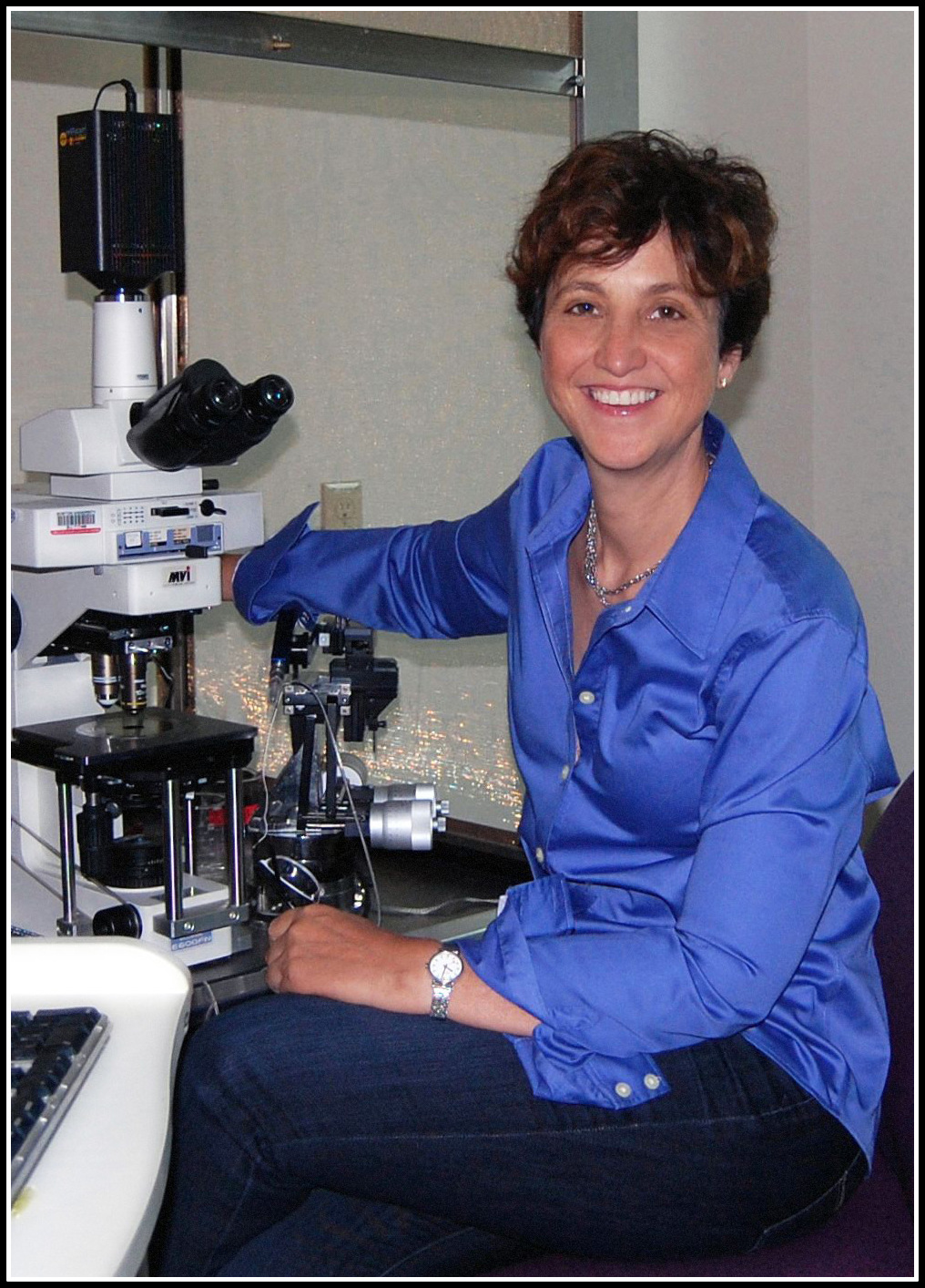 Dr. Luebke received her doctorate in Anatomy & Neurobiology from Boston University School of Medicine. She completed a first postdoctoral fellowship in neurophysiology at Harvard Medical School and a second postdoctoral fellowship in neurophysiology at Tufts University School of Medicine and then joined the Departments Anatomy & Neurobiology and of Psychiatry at BUSM. Dr. Luebke maintains a laboratory in which whole-cell patch-clamp and intracellular filling techniques are used to examine the electrophysiological and morphological properties of neurons in in vitro slices of monkey and transgenic mouse neocortex.  Research is focused on action potential firing patterns (and underlying ionic currents), glutamatergic and GABAergic synaptic response properties and detailed dendritic architecture.  Data from single neurons are incorporated into computational models in collaboration with mathematicians at Mt. Sinai School of Medicine.  In addition, collaborations are ongoing with investigators at BUSM who use molecular biological (single cell PCR and microarray) and electron microscopic (ultrastructural analysis) techniques to examine cells from which recordings are obtained. Overall goals include: 1) to examine the individual and network properties of cells in the prefrontal cortex; 2) to determine the effects of normal aging on these properties in the rhesus monkey, and; 3) to determine the effects of tau and amyloid on these properties in transgenic mouse models of Alzheimer's disease.  Dr. Luebke's research is funded by the NIH. Dr. Luebke is involved in teaching the Neuroscience course offered in the Medical School and several other graduate neuroscience courses at BUSM.
Dr. Luebke is the Director of the Graduate Program and PhD student advisor in the Department.
Recent Publications
Age-Related Changes to Layer 3 Pyramidal Cells in the Rhesus Monkey Visual Cortex.
Luebke JI, Medalla M, Amatrudo JM, Weaver CM, Crimins JL, Hunt B, Hof PR, Peters A.
Cereb Cortex. 2013 Dec 8. [Epub ahead of print]
The intersection of amyloid beta and tau in glutamatergic synaptic dysfunction and collapse in Alzheimer's disease. Crimins JL, Pooler A, Polydoro M, Luebke JI, Spires-Jones TL. Ageing Res Rev. 2013 Mar 22. doi:pii: S1568-1637(13)00015-9. 10.1016/j.arr.2013.03.002. [Epub ahead of print]intersection_of_amyloid_beta
The antiaging protein Klotho enhances oligodendrocyte maturation and myelination of the CNS. Chen CD, Sloane JA, Li H, Aytan N, Giannaris EL, Zeldich E, Hinman JD, Dedeoglu A, Rosene DL, Bansal R, Luebke JI, Kuro-o M, Abraham CR. J Neurosci. 2013 Jan 30;33(5):1927-39. doi: 10.1523/JNEUROSCI.2080-12.2013.
Dendritic spine changes associated with normal aging. Dickstein DL, Weaver CM, Luebke JI, Hof PR. Neuroscience. 2012 Oct 13. doi:pii: S0306-4522(12)01009-3. 10.1016/j.neuroscience.2012.09.077. [Epub ahead of print]dendritic_spine
Influence of highly distinctive structural properties on the excitability of pyramidal neurons in monkey visual and prefrontal cortices. Amatrudo JM, Weaver CM, Crimins JL, Hof PR, Rosene DL, Luebke JI.  J Neurosci. 2012 Oct 3;32(40):13644-60. doi: 10.1523/JNEUROSCI.2581-12.2012.influence
Electrophysiological changes precede morphological changes to frontal cortical pyramidal neurons in the rTg4510 mouse model of progressive tauopathy. Crimins JL, Rocher AB, Luebke JI. Acta Neuropathol. 2012 Dec;124(6):777-95. doi: 10.1007/s00401-012-1038-9. Epub 2012 Sep 14.electrophysiological
Morphologic evidence for spatially clustered spines in apical dendrites of monkey neocortical pyramidal cells. Yadav A, Gao YZ, Rodriguez A, Dickstein DL, Wearne SL, Luebke JI, Hof PR, Weaver CM. J Comp Neurol. 2012 Sep 1;520(13):2888-902. doi: 10.1002/cne.23070.morphologic_evidence
Crimins JL, Rocher AB, Peters A, Shultz P, Lewis J, Luebke JI (2011) Homeostatic responses by surviving cortical pyramidal cells in neurodegenerative tauopathy. Acta Neuropath. 2011 Oct 4. [Epub ahead of print]
Kopeikina, K, Carlson G, Pitstick R, Ludvigson A, Peters A, Luebke J, Koffie R, Frosch M, Hyman B, Spires-Jones T, (2011) Tau accumulation causes mitochondrial distribution deficits in neurons in a mouse model of tauopathy and in human AD brain. Am J Pathol. 179(4): 2071-2082.
Ludvigson, A, Luebke, JI, Lewis, J, Peters A (2010) Structural abnormalities in the cortex of the rTg4510 mouse model of tauopathy: a light and electron microscopy study. Brain Structure and Function. 216(1):31-42.
Luebke, JI,  Amatrudo, J (2010) Age-related increase of sIAHP in prefrontal pyramidal cells of monkeys: relationship to cognition. Neurobiology of Aging. Aug 18 E Pub ahead of print.
Luebke, J.I., Weaver, C.M., Rocher, A.B., Rodriguez, A., Crimins, J.L., Dickstein, D.L., Wearne, S.L., Hof, P.R. (2010) Dendritic vulnerability in neurodegenerative disease: insights from analyses of cortical pyramidal neurons in transgenic mouse models. Brain Structure and Function. 214:181-199.
Luebke, J.I., Barbas, H., Peters, A. (2010) Effects of normal aging on prefrontal area 46 in the rhesus monkey. Brain Research Reviews. 62:212-32.
Rocher, A.B., Crimins, J.I., Amatrudo, J.M., Kinson, M.S., Todd-Brown, M.A., Lewis, J., Luebke, J.I. (2010) Structural and functional changes in tau mutant mice neurons are not linked to the presence of NFTs. Experimental Neurology. 223(2):385-93.
Collaborators