Richard K. Babayan, MD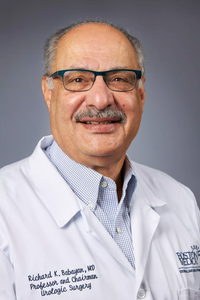 Richard K. Babayan, MD is Emeritus Professor of Urology at Boston University School of Medicine having recently stepped down as Chair of Urology. Dr. Babayan is a graduate of Indiana University School of Medicine and did his surgical training at Yale-New Haven Hospital before completing a urology residency at Boston University Medical Center in 1980. From 1980 – 1982 he was an American Urological Association Research Scholar performing basic science research in the field of hyperthermia at both MIT and BUSM. Dr Babayan is a founding member of the Endourological Society and has been actively involved in minimally invasive therapies within the field of urology. His clinical interests center around BPH, prostate cancer and urologic oncology, endourology and currently one of four urologic surgeons at BMC using the daVinci Robot for robotic assisted laparoscopic radical prostatectomy.
Dr. Babayan has been actively involved in local and national urologic organizations. He recently served as President of the American Urological Association.
Medical School: Indiana University
Residency: Boston Medical Center, Boston MA
Fellowship: AUA Research Scholar – Boston Medical Center and MIT, Boston MA
Additional Links