Jennifer Tseng, MD, MPH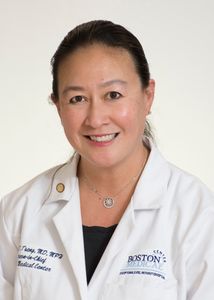 Jennifer Tseng, MD, MPH is the James Utley Professor and Chair of the Department of Surgery at Boston University Chobanian & Avedisian School of Medicine (BUSM) and Surgeon-in-Chief at Boston Medical Center (BMC).
Dr. Tseng is an acclaimed surgical oncologist and gastrointestinal surgeon whose practice focuses on the upper gastrointestinal tract. Prior to being recruited to BUSM/BMC in 2017, Dr. Tseng served as Chief of surgical oncology at Beth Israel Deaconess Medical Center (BIDMC) and as a professor of surgery at Harvard Medical School. Of note, Dr. Tseng was the first female full professor of surgery at BIDMC and only the fourth female full professor of surgery in the history of Harvard Medical School. While at BIDMC, she led a diverse group of faculty in research, education, and clinical care for gastrointestinal, endocrine, breast, melanomas and sarcomas, and other malignancies and related conditions.
Dr. Tseng has published more than 150 peer-reviewed journal articles on reducing surgical risk, cancer biomarkers, and developing models for cancer treatment sequencing strategies, with a strong focus on racial and socioeconomic disparities in care. She has worked with the Massachusetts Department of Public Health to assess the impact on patient care of factors that include insurance, social disparities, and health care reform on cancer diagnosis, treatment, and prevention. Dr. Tseng is on the editorial board of several journals and is a deputy editor of JAMA Surgery. She is a leader in a number of organizations and is the President-elect of The Society for Surgery of the Alimentary Tract and is a founder and Past President of the Society of Asian Academic Surgeons. Dr. Tseng is a councilor for the American Board of Surgery (ABS) and was recently appointed chair of the ABS Research Committee.
Dr. Tseng is the founding director of SOAR (Surgical Outcomes Analysis & Research), a research initiative to improve treatment strategies for a broad range of surgical conditions and to develop tools to assess and reduce risk. Originally based at the University of Massachusetts Medical School, SOAR is now the hub of research for the BUSM/BMC Department of Surgery. Led by Dr. Teviah Sachs, SOAR is a multifaceted resource for surgery residents, faculty, and research fellows.
Dr. Tseng received her undergraduate degrees in English and biological sciences from Stanford University, her MD from the University of California, San Francisco School of Medicine, and her master's degree in public health from the Harvard T.H. Chan School of Public Health. She completed a general surgery residency at Massachusetts General Hospital and a research fellowship in molecular medicine at Harvard Medical School/Boston Children's Hospital, followed by a clinical fellowship in surgical oncology at the University of Texas MD Anderson Cancer Center in Houston.
Dr. Tseng is the first woman as well as the first nonwhite person to serve as Chair and Chief of Surgery at an academic medical center in Boston, and one of a modest percentage nationally.