COPD
Translational-Clinical Research
---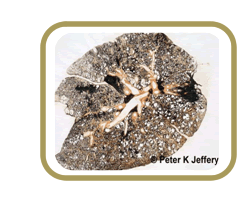 Mission Statement:
COPD is a substantial cause of death and disability in the US; in fact, it is the only leading cause of death that is on the rise. While cigarette smoking remains the best described risk factor for the development of COPD, not all smokers develop COPD. Despite the enormous economic and personal cost that has been accumulating over decades, our understanding of the biologic basis for both the development of COPD and the differential susceptibility to cigarette smoke remains quite limited. Using a spectrum of investigational approaches, our collaborative efforts aim to improve our understanding of the biology of the disease.
Background:
From bedside to bench, from microarrays to multivariable regression models, investigators from a variety of disciplines are collaborating to better understand the pathogenesis of COPD and to develop novel treatment options for those with COPD. In particular, our research focuses on understanding the mechanisms that underlie the differences in susceptibility to cigarette smoking. To that end, we are applying a variety of approaches, including proteomic, genomic, genetic, and epidemiologic, to human-based research.
Gene expression profiles associated with emphysema and COPD- studies of airway epithelial gene expression in smokers with and without COPD, lead by Jerry Brody and Avi Spira and correlation with the anti-oxidant protective glutathione shield in the lung
Proteomics- In cooperation with the Mass Spect Resource Center, we have used advanced mass spectrometry applications to a variety of biologic specimens, including tissue and exhaled breath condensate.
Framingham Heart Study (FHS)- Comprised of 5 main cohorts and up to three generations of participants, FHS has been following participants for as long as 55 years. Pulmonary outcome measures include respiratory questionnaires, simple spirometry, post-bronchodilator spirometry, and diffusion capacity. Ongoing projects at FHS include-

The role of systemic inflammation, oxidant stress, and metabolic factors in the pathogenesis of COPD: Drs. Walter and O'Connor are conducting these studies of the pathogenesis of chronic airflow obstruction in the three generations of participants in the Framingham Heart Study.
Genetic risk factors for COPD: The multi-generational Framingham cohorts include large numbers of extended pedigrees, providing a rich population for family-based genetic studies. Drs. O'Connor, Walter, and Burkart are participating in both genome-wide linkage studies and candidate gene association studies to discover new genetic risk factors for COPD.

Normative Aging Study- The VA Normative Aging Study (NAS) began in 1963 with 2,280 initially-healthy men and has followed the participants with serial clinical exams approximately every three years. A variety of clinical measures, including many respiratory outcomes, are available. Dr. Sparrow is using the database to explore genetic risk factors for accelerated longitudinal decline in lung function.
Interventional trials
Trials of automated telephone-based interventions for COPD: Drs. Sparrow and O'Connor are conducting trials of novel computerized, telephone-based patient education, monitoring, and feedback systems for optimizing self-management and increasing physical activity among patients with COPD.
Feasibility of Retinoid Therapy for Emphysema- an NHLBI-funded multicenter trial to explore the potential of retinoids for the treatment of moderate to severe emphysema. Outcome markers include symptom scores, physiology, CT quantitative image analysis, and serum and BAL biochemical measures
Industry funded trials- We are participating in a variety of studies of new approaches and novel pharmaceuticals. Outcome measures include physiology (including exercise physiology) and symptom scores.
Investigators:
Jerry Brody, MD
George T. O'Connor, MD, MS
Robert E. Walter, MD, MPH
Avrum Spira, MD
Helen Hollingsworth, MD
Post-Doctoral Fellows:
Selected Publications:
Hersh CP. Demeo DL. Lange C. Litonjua AA. Reilly JJ. Kwiatkowski D. Laird N. Sylvia JS. Sparrow D. Speizer FE. Weiss ST. Silverman EK. Attempted replication of reported chronic obstructive pulmonary disease candidate gene associations. American Journal of Respiratory Cell & Molecular Biology. 33(1):71-8, 2005 Jul.
Spira A. Beane J. Pinto-Plata V. Kadar A. Liu G. Shah V. Celli B. Brody JS. Gene expression profiling of human lung tissue from smokers with severe emphysema. American Journal of Respiratory Cell & Molecular Biology. 31(6):601-10, 2004 Dec.
Wilk JB. DeStefano AL. Arnett DK. Rich SS. Djousse L. Crapo RO. Leppert MF. Province MA. Cupples LA. Gottlieb DJ. Myers RH. A genome-wide scan of pulmonary function measures in the National Heart, Lung, and Blood Institute Family Heart Study. American Journal of Respiratory & Critical Care Medicine. 167(11):1528-33, 2003 Jun 1.
Walter RE. Beiser A. Givelber RJ. O'Connor GT. Gottlieb DJ. Association between glycemic state and lung function: the Framingham Heart Study. American Journal of Respiratory & Critical Care Medicine. 167(6):911-6, 2003 Mar 15.
Sanders MH. Newman AB. Haggerty CL. Redline S. Lebowitz M. Samet J. O'Connor GT. Punjabi NM. Shahar E. Sleep Heart Health Study. Sleep and sleep-disordered breathing in adults with predominantly mild obstructive airway disease. American Journal of Respiratory & Critical Care Medicine. 167(1):7-14, 2003 Jan 1.
Joost O. Wilk JB. Cupples LA. Harmon M. Shearman AM. Baldwin CT. O'Connor GT. Myers RH. Gottlieb DJ. Genetic loci influencing lung function: a genome-wide scan in the Framingham Study. American Journal of Respiratory & Critical Care Medicine. 165(6):795-9, 2002 Mar 15.
Kubzansky LD. Wright RJ. Cohen S. Weiss S. Rosner B. Sparrow D. Breathing easy: a prospective study of optimism and pulmonary function in the normative aging study. Annals of Behavioral Medicine. 24(4):345-53, 2002.
Gottlieb DJ. Wilk JB. Harmon M. Evans JC. Joost O. Levy D. O'Connor GT. Myers RH. Heritability of longitudinal change in lung function. The Framingham study. American Journal of Respiratory & Critical Care Medicine. 164(9):1655-9, 2001 Nov 1.
Young M. Sparrow D. Gottlieb D. Selim A. Friedman R. A telephone-linked computer system for COPD care. Chest. 119(5):1565-75, 2001 May.
Walter R. Gottlieb DJ. O'Connor GT. Environmental and genetic risk factors and gene-environment interactions in the pathogenesis of chronic obstructive lung disease. Environmental Health Perspectives. 108 Suppl 4:733-42, 2000 Aug.
Gottlieb DJ, Luisetti M, Stone PJ, Allegra L, Cantey-Kiser JM, Grassi C, Snider GL. Short-term supplementation therapy does not affect elastin degradation in patients with severe alpha-1-antitrypsin deficiency. Am. J. Resp. Crit. Care Med. 2000;162:2069-2072.
Gottlieb DJ. Stone PJ. Sparrow D. Gale ME. Weiss ST. Snider GL. O'Connor GT. Urinary desmosine excretion in smokers with and without rapid decline of lung function: the Normative Aging Study. American Journal of Respiratory & Critical Care Medicine. 154(5):1290-5, 1996 Nov.