Arthur Theodore, M.D.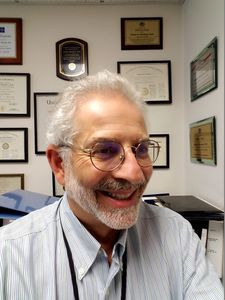 Clinical Professor of Medicine
Medical Director – Respiratory Therapy
Medical School: Boston University
Internship: Hennepin County General Hospital, Minneapolis, MN
Residency: Hennepin County General Hospital, Minneapolis, MN
Fellowship: Boston University
Board Certifications:
Internal medicine
Pulmonary Disease
Special Interests:
Research:
Interstitial Lung Disease associated with Scleroderma
Clinical:
Interstitial Lung disease associated with Collagen Vascular Disease
Pulmonary fibrotic and inflammatory disease
Immunologic Lung Disease
Dr. Theodore holds an appointment with the Boston University School of Medicine as a Clinical Professor of Medicine. Dr. Theodore is the former Director of the Medical Intensive Care Unit (MICU). During his tenure he spearheaded the integration of pharmacists into the MICU teams, instituted the educational lecture series on core critical care topics, established a fourth year medical students sub internship elective and established the attending night coverage system. Dr. Theodore developed and established the Interventional Pulmonary Service which successfully reduced procedure related complications and infections for paracentesis, thoracentesis, lumbar punctures and central lines which led to the development of hospital-wide central line credentialing and training. He is a regular participant in the Department of Medicine teaching conferences, journal clubs and morning reports to discuss pulmonary and critical care cases and has lectured to the Department of Medicine, Emergency Department, Rheumatology, Cardiology and Surgical Services on subjects such as ARDS, sepsis, pulmonary embolism, collagen vascular disease associated ILD and mechanical ventilation. Dr. Theodore lectures within pulmonary section on Lung Transplantation, anaerobic pulmonary and pleural infections and lung disease associated with collagen vascular disease. The Scleroderma Center was established many years ago at Boston University and has become an active clinical and research area with 50-100 new patients/year. Dr. Theodore was recruited by the former Chief of the Rheumatology Division to work in the Scleroderma Center and has become an international authority on Systemic Sclerosis Interstitial Lung Disease. He was invited to speak at both the American College of Chest Physician in 2005 and the American Thoracic Society in 2004 and 2007 and online at Medscape.com. He was the Principle Investigator of the Multicenter Scleroderma Lung Study I (SLS I) at Boston University, the Principle Investigator at Boston University for the SLS II clinical trial and the Co-PI for SLS III and trials of Abituzumab and Nintedanib in scleroderma interstitial lung disease. In 2015 Dr. Theodore was a voting member for the committee which revised the Official ATS/ERS/JRS/ALAT Clinical Practice Guidelines on the "Treatment of Idiopathic Pulmonary Fibrosis." He has been honored by the American Association of Colleges of Pharmacy with the Crystal Apple Award, the Boston University Department of Medicine House Officers as the Best Teacher Award for the full time faculty, the top ten faculty teaching award from 2016-2018 and listed by the Consumer Research Council of America in "Guide to America's Top Physicians. He was nominated by his peers to "Best Doctors in America," listed by America's Registry and Strathmore's Who's Who as "Professional of the Year," and listed in Boston Magazine's Web Site, "Best Doctors." In 2017, Dr. Theodore was named as an Evans Clinician Designate, which recognizes and celebrates outstanding clinicians who possess clinical skills, attributes and professionalism that define excellence. Dr. Theodore actively attends the pulmonary abd MICU services throughout the year.
Selected Publications:
Marshall J., Finn C.A., and Theodore A.C. Impact of a clinical pharmacist enforced ICU sedation protocol on duration of mechanical ventilation and hospital stay. Critical Care Medicine, 36(2):427-33, 2008.
Strange C, Bolster M, Roth M , Silver, R, Theodore A, Goldin J, Clements, P, Chung, J, Elashoff R, Suh R, Smith E, Furst D and D Tashkin. Bronhcoalveolar lavage and Response to Cyclophosphamide in Scleroderma Interstitial Lung Disease. Am Rev Resp Crit Care Med. American Journal of Respiratory & Critical Care Medicine 2008; 177:91-8.
Theodore AC. "Arterial Blood Gasses" Up to Date, rev 2015.
Clearment, G and AC Theodore. "Arterial Catheterization." Up to Date, rev 2015.
Theodore AC and LS Jefferson. "Oxygenation and mechanisms of hypoxemia." Up to Date, rev 2015.
Theodore A.C. Venous blood gases and other alternatives to arterial blood gases. In: UpToDate, Rose, BD (Ed), UpToDate, Waltham, MA, 2012, rev 2015, rev 2017.
Khanna D., Yan X., Tashkin DP., Furst DE., Elashoff R., Roth MD., Silver R., Strange C., Bolster M., Seibold JR., Riley DJ,. Hsu VM., Varga J., Schraufnagel DE., Theodore A,. Simms R,. Wise R., Wigley F., White B., Steen V., Read C., Mayes M., Parsley E., Mubarak K., Connolly MK., Golden J., Olman M., Fessler B., Rothfield N., Metersky M., Clements PJ., Scleroderma Lung Study Group.. Impact of oral cyclophosphmide on Health-related Quality of Life in Patients with active scleroderma lung disease. Results from the Scleroderma Lung Study. Arthritis & Rheumatism 2007, 56:1676-1684.
Tashkin, DP and the Scleroderma Lung Research Group. Effects of 1-Year Treatment with Cyclophosphamide on Outcomes at 2 Years in Scleroderma Lung Disease. Am Rev Resp Crit Care Med. 2007;176:1026-1034.
Khanna D, PJ Clements, DE Furst, Y Chon, R Elashoff, MD Roth, MG Sterz, J Chung, JD FitzGerald, JR Seibold, J Varga, AC Theodore, F Wigley, RM Silver, V Steen, M Mayes, K Connolly, BJ Fessler, NRothfield, K Mubarak, J Molitor, and DP Tashkin, for the Scleroderma Lung Study Group. Correlation of the Degree of Dyspnea with Health-Related Quality of Life, Functional Abilities and Diffusing Capacity for Carbon Monoxide in Patients with Systemic Sclerosis and Active Alveolitis: Results from the Scleroderma Lung Study. Arthritis & Rheumatism, Vol. 52, No. 2, February 2005: p. 592-600.
Tashkin, DP and the Scleroderma Lung Study Research Group. Cyclophosphamide versus Placebo in Scleroderma Lung Disease. New England Journal of Medicine. 354;25, 2655-2666, 2006.
Theodore A.C., Tseng CH., Li N., Elashoff R.M., Tashkin D.P.. Correlation of Cough with Disease Activity and Treatment with Cyclosphosphamide in Scleroderma Interstitial Lung Disease.  Findings from the Scleroderma Lung Study.   Chest 2012; 142(3):614-21

Raghu G., Rochwerg B., Zhang Y., Cuello-Garcia C.A., Azuma A., Juergen J., Brozek J.L., Collard H.R., Cunningham W., Homma S., Johkoh T., Martinez F.J., Myers J., Protzko S.L., Richeldi L., Rind D., Selman M., Theodore A., Wells A.U., Hoogsteden H., Schunemann H.J.; on behalf of the ATS, ERS, JRS, and ALAT Official ATS/ERS/JRS/ALAT Clinical Practice Guidelines: Treatment of Idiopathic Pulmonary Fibrosis.  An Update of the 2011 Clinical Practice Guideline. AJRCCM; 2015, 192 (2): 238-248.
Tashkin DP, Volkmann ER, Tseng C-H, Roth MD, Khanna D, Furst DE, Clements PJ, Theodore A, Kafaja S, Kim GH, Goldin J, Ariolla E, Elashoff RM. Improved Cough and Cough-Specific Quality of Life in Patients Treated for Scleroderma-Related Interstitial Lung Disease: Results of Scleroderma Lung Study II. Chest. 2017;151(4):813-820. doi:10.1016/j.chest.2016.11.052.
Tashkin, D., et al (SLS II). Mycophenolate Mofetil versus Oral Cyclophosphamide in Scleroderma-related Interstitial Lung Disease: Scleroderma Lung Study II (SLS-II), a double-blind, parallel group, randomised controlled trial. The Lancet; Published online initially on July 15, 2016. DOI: http://dx.doi.org/10.1016/S2213-2600 .  Print (16)30152-7.
Selected Publications:
Cyclophosphamide for Scleroderma Lung Disease

(Editorial)
Links: