John Bernardo, M.D.
Faculty and Fellows
---
jbernard@bu.edu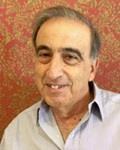 Professor of Medicine, Research Professor of Biochemistry
Tuberculosis Medical Officer, Massachusetts Department of Public Health
Medical School: Univ of Illinois, Chicago
Internship: New York Hospital/Memorial Hospital
Residency: New York Hospital/Memorial Hospital; Boston City Hospital
Fellowship: NHLBI, NIH
Special Interests:
Research:
Basic Science Research: Control of Phagocyte Function and novel applications of Flow Cytometry/kinetic flow imaging
Translational-Clinical Research: Tuberculosis: diagnostics; treatment; community-based prevention; education; policy
Clinical:
Clinical/Research Activities:
Dr. Bernardo is Professor of Medicine at Boston University School of Medicine. He attends on the pulmonary consult service and critical care unit at Boston Medical Center. He is active in local and national TB programmatic activities, including: National Tuberculosis Controllers' Association (NTCA) where he has served as Executive Committee Board President in 2006-7 and 2014-15, and Stop TB USA, where he served as its Chairperson from 2010-12.  He also served  as president of the National Society of TB Clinicians of the NTCA 2018-2019. Dr. Bernardo is the NTCA representative to the Association of Public Health Laboratories Tuberculosis Subcommittee. Dr. Bernardo is a collaborator at the CDC's Northeast Tuberculosis Regional Training and Medical Consultation Center at Rutgers Medical School, Newark, NJ, where he teaches courses on tuberculosis and provides regional medical consultation for complex cases, and TB Medical Officer, Massachusetts Department of Public Health, Div of TB Prevention and Control. He also has served on numerous CDC advisory committees on tuberculosis.
Outside of Boston Medical Center, Dr. Bernardo is a Pulmonary/TB Physician for Boston's Health Care for the Homeless, Inc.
Dr. Bernardo's basic research interests include basic studies of the control of the phagovacuolar environment (human neutrophils and monomuclear phagocytes) using kinetic flow cytometry and novel flow cytometric techniques (NHLBI support), in collaboration with Elizabeth Simons, Ph.D., Professor of Biochemistry. For more details, please see our webpage of TB/HIV Basic Science Research.
Selected recent publications:
Please see BU Profile for complete Publications list
Dr Bernardo see patients in the following locations:
Allergy Clinic, Shapiro 9