Hasmeena Kathuria, M.D.
Faculty and Fellows
---
hasmeena@bu.edu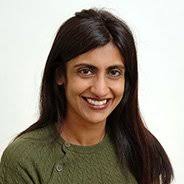 Associate Professor of Medicine
Medical School: Stritch School of Medicine, Loyola University
Internship: Indiana University
Residency: Indiana University
Chief Residency: Indiana University
Fellowship: Boston University
Special Interests:
Clinical:
Dr. Kathuria is a pulmonary and critical care physician, a sleep physician, and an expert in tobacco dependence treatment. She has developed and directs the Tobacco Treatment Center at Boston Medical Center, a program that brings together a multidisciplinary team of health professionals who specialize in helping smokers quit smoking. In addition she is a member of the BMC sleep group and has expertise in the diagnosis and treatment of sleep disorders. She sees sleep patients in the Shapiro Pulmonary Sleep Clinic at Boston Medical Center and general pulmonary patients at Winthrop Neighborhood Health.
Dr. Kathuria has received the inaugural Clinical Innovator Award and the BMC Clinical "Be Exceptional" award relating to her efforts to treat tobacco dependence in low SES populations. For her work related to tobacco treatment, she has been appointed by the American Thoracic Society (ATS) to serve as Vice Chair on the Tobacco Action Committee to help organize research, clinical, educational, advocacy and policy activities relating to tobacco use and serves on the American Cancer Society's Tobacco Cessation Task Group (National Lung Cancer Round Table). Dr. Kathuria is on an ATS panel tasked to develop an updated clinical tobacco treatment guideline and is chairing a committee through the American College of Chest Physicians to develop a national clinical guideline on implementing inpatient tobacco treatment services.
Research:
Dr. Kathuria is an implementation science researcher. The goal of her research is to improve patient outcomes in low socioeconomic status (SES) patients through implementing patient-centered programs. With funding from the Evans Center for Implementation and Improvement Sciences (CIIS), she is assessing outcomes related to implementation of the inpatient smoking cessation program. In addition, she chaired a national project sponsored by the American Thoracic Society (ATS) to prioritize research needs to optimize smoking cessation in the context of lung cancer screening. She is completing a randomized controlled trial funded by the American Lung Association (ALA Lung Cancer Discovery Award) using an inpatient nurse-driven intervention to promote smoking cessation and lung cancer screening in hospitalized smokers.
Selected Publications:
Charlot M, D'Amico S, Luo M, Gemei A,Kathuria H, Gardiner P. Feasibility and Acceptability of Mindfulness Based Group Visits for Smoking Cessation in Low Socioeconomic Status and Minority Smokers with Cancer. Journal of Alternative and Complementary Medicine. 2019 (in press)
Iaccarino, JM, Duran C, Slatore C, Wiener RS, Kathuria H. Combining smoking cessation interventions with LDCT lung cancer screening: A Systematic Review. Prev Med. 2019; PMID: 30753860
Kathuria H, Seibert RG, Cobb V, Herbst N, Weinstein ZM, Gowarty M, Jhunjhunwala R, Helm ED, W. R. Perceived Barriers to Quitting Cigarettes among Hospitalized Smokers with Substance Use Disorders: A Mixed Methods Study. Addict. Behav. 2019; PMID: 30836208
Kathuria H, Millien, McNally L, Gower AC, Tagne JB, Cao Y, and Ramirez M. NKX2-1-AS1 negatively regulates CD274/PD-L1, cell-cell interaction genes, and limits human lung carcinoma cell migration Scientific Reports. 2018; PMID 30258080
Kathuria H, Seibert RG, Cobb V, Weinstein ZM, Gowarty M, Helm ED, Wiener RS. Patient and Physician Perspectives on Treating Tobacco Dependence in Hospitalized Smokers with Substance Use Disorders: A Mixed Methods Study. Journal of Addiction Medicine. 2019; PMID: 31232740
Kathuria H, Koppelman E, Lasser KE, Borrelli B, Slatore CG, Clark JA, Wiener RS. Patient-Physician Discussions on Lung Cancer Screening: A Missed Teachable Moment to Promote Smoking Cessation Nicotine Tob Res. 2018; PMID: 30476209.
Leone FT, Carlsen K, Chooljian D, Crotty-Alexander LE, Detterbeck FC, Eakin M, Evers-Casey S, Farber HS, Folan P, Kathuria H, Latzka K, McDermott S, McGrath-Morrow S, Moazed F, Munzer A, Neptune E, Pakhale S, Sachs D, Samet J, Sufian B, Upson D. Recommendations for the Appropriate Structure, Communication, and Investigation of Tobacco Harm Reduction Claims: An Official American Thoracic Society Policy Statement Am J Respir Crit Care Med. 2018; PMID: 30320525
Millien G, O'Hara CJ, Tagne JB, Hinds A, Williams MC, Ramirez MI, Kathuria H. ETS1 Regulates Twist1 Transcription in a KrasG12D/Lkb1-/- metastatic lung tumor model of Non-Small Cell Lung Cancer in Clinical & Experimental Metastasis. 2018; PMID: 29909489
Muñoz-Largacha JA, Steiling KA, Kathuria H, Charlot M, Fitzgerald C, Suzuki K, Litle VR Initial Surgical Experience Following Implementation of Lung Cancer Screening at an Urban Safety Net Hospital J Thorac Cardiovasc Surg. 2018; PMID: 29534906
Wiener RS, Koppelman E, Bolton R, Lasser KE, Borrelli B, Au DH, Slatore CG, Clark JA, Kathuria H. Patient and clinician perspectives on shared decision-making in early-adopting lung cancer screening programs: A qualitative study. J Gen Intern Med 2018; PMID: 29468601
Kathuria H, Detterbeck FC, Fathi JT, et al. Stakeholder Research Priorities for Smoking Cessation Interventions within Lung Cancer Screening Programs. An Official American Thoracic Society Research Statement. Am J Respir Crit Care Med. 2017; PMID: 29090963
Book Chapters/Invited Manuscripts/Editorials
Kathuria H, Leone FT, and Neptune ER. Treatment of Tobacco Dependence: Current State of the Art. Curr Opin Pulm Med. 2018; PMID: 29677028
Kathuria H. Proactively Engaging Smokers with Chronic Respiratory Disease to Tobacco Treatment. Ann Am Thorac Soc. 2018; 15(3):308-309 PMID: 29493333.
Gesthalter Y, Wiener, RS, Kathuria H. A Call to Formalize Training in Tobacco Dependence Treatment for Pulmonologists. Ann Am Thorac Soc. 2016; 13(4):460-1. PMID: 27058182.
Kathuria H. Tobacco/Nicotine: Pharmacologic, Medical, and Behavioral Characteristics and Long-Term Management in Electronic CME course/textbook: Addiction Medicine for Non-Specialists. 2019; Oakstone Publishing
Links: