A Day in the Life of a PGY-3 Resident – Dr. Kabrt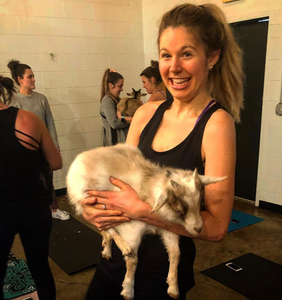 Jessica Kabrt, DO
Class of 2024
My name is Jessica Kabrt and I am a PGY-3 Resident at BMC. The third year is focused mostly on outpatient work, along with 3 weeks of night float (done in two 1 week blocks as well as random weekend nights at BMC and the West Roxbury VA), about 7 weekend day shifts throughout the year, and three 24-hour call shifts at the West Roxbury VA. When on call, you are covering the Consult-Liaison service as well as the emergency department.
Mondays and Fridays I am at the JP VA Causeway Clinic which is a 15 minute walk from me. VA clinic days vary but are generally 8am-4 or 5pm with an hour of lecture each day as well as 1 hour of group once a week. We are assigned to co-facilitate an outpatient group for the veterans. On Tuesdays, I have Adult Integrated Behavioral Health Clinic in the morning where we see patients who are generally referred by their Primary Care Providers for help with medication management or therapy referrals. In the afternoon, I have my BMC Outpatient Clinic. Wednesday mornings, I have Child Integrated Behavioral Health Clinic (which has been my favorite due to my passion for Child and Adolescent Psychiatry) and then BMC Dowling Outpatient Clinic in the afternoon. Thursdays we have all day didactics. In October, I will be participating in the Refugee Health and Human Rights Clinic at BMC as I have an interest in treating this population and learning more about their experiences. Starting in January, instead of Child IBH I will have CARDS (Center for Anxiety and Related Disorders) at the BU Campus.
What I have enjoyed most about 3rd year of residency is my development as both a therapist and a psychiatrist especially since I'm interested in doing outpatient work after graduation. Additionally, I get to see a lot more of my co-residents as many of us are at the same clinics each day! You have a supervisor for each clinic you rotate through, which allows you to develop a vast knowledge regarding treatment of patients, and further develop your therapy and psychopharmacology skills. This year has also expanded my understanding of health systems and allowed me to dive deeper in the many social, cultural, and economic factors that play a role in a patient's presentation.
When I'm not at work, I am either hanging out with friends, watching reality TV, working out, going to the beach or doing anything outdoors especially in the summertime. I have found that psychiatry residency definitely allows for a great work life balance which has been significant in preventing burn out. I will be graduating from BMC this summer due to fast tracking for Child and Adolescent Psychiatry Fellowship and will definitely miss my co-residents and working at BMC!
Written by Dr. Kabrt in August 2022