A Day in the Life of a PGY-2 Resident – Dr. Ilechukwu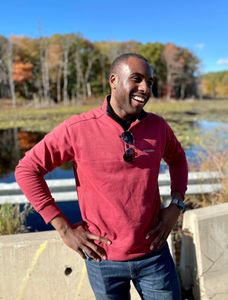 Brandon Ilechukwu, DO
Class of 2025
Hi, my name is Brandon Ilechukwu and I'm a PGY-2 psychiatry resident at BMC. Starting second year as a categorical resident means we now only have psychiatry rotations throughout the year. We get to see psychiatry applied in a wide variety of services through a block schedule and we begin to get a much better idea of what areas of practice we're interested in. We rotate through consultation-liaison, geriatrics (along with ECT and ketamine treatment during this block), child & adolescent, addictions, forensics, and emergency psychiatry; most rotations starting around 8 AM and finishing somewhere between 4:30 and 6 PM. We also have an elective month which can be used for academic endeavors such as research or traveling for an international elective, an option that we have successfully reintroduced since the beginning of the Covid-19 pandemic. Although starting to work call shifts and night float can be daunting at first, it's an exciting year because we quickly see a major growth in confidence with our clinical decision making skills.
So far, I've completed my consultation-liaison rotation as well as 2 weeks of night float at the West Roxbury VA. CL is certainly one of our busiest rotations, but between consults, night float, and a few call shifts at BMC, I already feel like a pro! We develop a strong sense of independence by being the only psychiatrist in the hospital for call and night shifts. There is a steep learning curve on these shifts but it's reassuring to know that our on-call attendings are all approachable, friendly (even at 3 AM), and ready to help us out when we need some advice.
I've now started my geriatrics rotation at the Brockton VA. On this rotation, we provide ECT in the mornings starting at about 8 AM and at noon we start seeing geriatric patients on the long-stay unit making medication changes throughout the week. At 4:30 PM, I head home for the day and decompress. Not a bad change from running around the hospital and responding to pages on CL!
During this year, we also start managing our own panel of patients in our outpatient clinics every Thursday morning (no clinics during night float). We each have a panel of about 8-10 patients which we see for medication management, psychotherapy, or both. Thursday is our didactics day, so after clinic we have multi-disciplinary team (MDT), individual supervision, and lectures. MDT and supervision are both very helpful in the journey through outpatient psychiatry; they give us a space to discuss challenging cases and to pick up pearls of wisdom from awesome therapists, our very cool attendings, and from each other. We end the day with T (therapy/training) group where we get together as a class with a therapist from outside of our program to talk about everything related to life as a resident. My class has been the ultimate support system throughout residency and it's been so nice to have this time to process all of the ups and downs that we face in our work and also in our personal lives.
When not at the hospital, you will likely find me getting a solid workout in, hitting the city with friends for a night out, shamelessly watching way too much Netflix, or sleeping. Although 2nd year has many more responsibilities, I find that I still have plenty of time to live my life. Boston is an incredibly charming city with so many ambitious and motivated people in a wide-range of industries. There are endless opportunities for personal and professional growth in this city and I'm so glad to be a part of it.
Written by Dr. Ilechukwu in September 2022