Financial Fitness Fair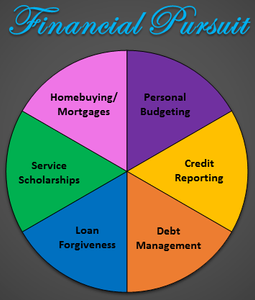 Student Financial Services Financial Fitness Fair
September 10, 2019 from 10:00am – 6:00pm
Hiebert Lounge – BUMC

Financial Wellness means taking steps to live within your financial means and planning for, future financial health.  You can do this by planning financially, creating a budget and learning how to be a good consumer.
There is nothing trivial about your financial questions!
Representatives from over a dozen organizations are ready to meet and counsel students on a variety of topics. Students from all across the BU Graduate and Professional programs are welcome to attend.
| | |
| --- | --- |
| Representatives | |
| AAMC – Loan Repayment Strategies | Julie Gilbert from the AAMC will help you manage your student loans after graduation. She will first show you how to determine your Loan Servicer, then review Loan Deferment & Forbearance as well as Loan Consolidation, Capitalization and Repayment Plans for Various Income Brackets. Small group loan repayment counseling will be offered (Registration for both sessions required) |
| Access Lex | Ashley Norwood will help students navigate Public Service Loan Forgiveness (PSLF). She will offer details on eligible loans and on qualifying jobs, as well as clarification on the application process and the future of PSLF. She is also an excellent resource for loan repayment strategies. (Registration required) |
| NHSC | Karen Guren will discuss how the NHSC scholarship pays tuition, fees, other educational costs, and provides a living stipend in return for a commitment to work at least 2 years at an NHSC-approved site in a medically underserved community. |
| Experian | Veronica Herrera will provide details on what factors contribute to your credit score(s), how to manage major life events that can affect credit and what you can do to improve your credit. |
| | |
| PhysicianLoans | While PhysicianLoans specializes in loans available specifically to doctors and dentists, in these presentations, Michael Ackerman will offer general information and personal strategies. He will help all students best position themselves for home ownership after graduation. |
| TranSComm | TranSComm (Transportation Solutions for Commuters, Inc.) is a transportation management association (TMA) that coordinates the transportation needs of the Medical Center community. TranSComm creates innovative solutions by collaborating with local, state and federal agencies to propose and implement transportation options. |
Representatives from lending institutions available for International Students will also be in attendance
| | |
| --- | --- |
| MPower Loans                                        | Offers loans to eligible international students who are enrolled in a degree program and are within two years of graduation. |
| Prodigy Loans                                                                                                                                                                  | Prodigy Finance is a borderless loan provider for graduate international students, including a loan refinancing option for employed international alumni of Boston University. Representatives will share resources about responsible borrowing and insights on how to build U.S. credit as a foreign H-1B visa-holder or F-1 student." |