COVID-19 and Housing
Finding housing during these unprecedented time can provide an extra level of stress and uncertainty. Beyond the normal search for a suitable property, and connecting with future roommates, now there is the added concern about health and safety. The Back2BU website provides timely updates.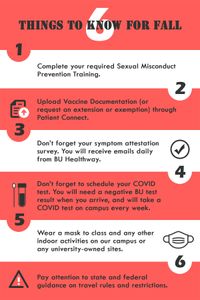 Below are some FAQ's related to COVID-19 and housing to consider:
Should I look for housing for Fall 2021?
Yes, as most programs require on-campus presence.
Should I travel to Boston to look for housing?
It is always advisable to view any property before you commit to living there. However, this may not be possible for many students, even for those who planned on previously traveling to Boston to look at properties. Still, you should utilize all technological and video resources available to view properties.
The BU Off-Campus Services website recently enhanced its site features to include Virtual Tour options. Property owners now have the opportunity of providing virtual tours of available properties, right on their website. This update allows an even more throughout look of available properties.
For those properties that lack a Virtual Tour on the Off-Campus Services website, you can still connect with the property owner/lessor to set up a video tour of the property. You can be able to set up video calls through FaceTime, Skype, Zoom, or other video-call service.
If my plans change before I move to Boston, what should I do?
Before you sign any lease, it is strongly advised that you ask any property manager, landlord, or real estate agent about the ramifications for not moving into the property you leased. Some suggested questions could be:
What charges will I be responsible for if I cannot fulfill my lease, due to COVID-19?
How much time will I need to provide to the landlord/agent, if I choose not to move to Boston?
Are there any options to defer the deposit on a property to a later date?
How much money would I forfeit for not fulfilling my lease?
A lease is a legally binding document. Therefore, all terms that are written in the lease, are those terms and conditions you agreed to abide by, when signing the lease. Ultimately, it is your responsibility to understand what can happen if you end up not meeting the terms of the lease.
Housing Resources provides additional information about lease terms and other legal rights and responsibilities to consider on our Leasing- Rental Essentials page.
Does BU provide housing for graduate and professional students?
BU Real Estate has a small number of housing options on the Charles River Campus for graduate students. Contact BU Real Estate for current options.
Are there any properties/agencies that you recommend?
BUMC Housing Resources provides all of our services as a courtesy to students, and their families. We cannot recommend one property over another. However, the properties and agencies listed on the Off-Campus Services website have worked with BU students in the past. Our website has additional items to consider when working with realtors.
Will there be any opportunities to connect with agencies and property managers?
BUMC held its annual Housing Fair on Friday, May 21. Unfortunately, this event was not recorded. However, all vendors at the Housing Fair are members of the BU Off-Campus Services website.
I left Boston due to COVID-19, but I still have my possessions in my apartment. How can I get access to my possessions?
You may be able to connect with The UPS Store, to see if they can provide pack/store/ship for your property. If they cannot provide this service, you may want to explore any pack/store/ship options options through the Massachusetts Moving Association website.
Disclaimer
Housing Resources provides information to Boston University Medical Campus students, faculty and staff members solely as a courtesy. Boston University does not endorse any companies and accepts no responsibility for the accuracy or reliability of listings with the office. Contact with persons and companies listed herein must be conducted independently and at your own risk.