Amanda E. Macone, MD
Assistant Professor of Neurology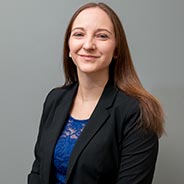 Title

Assistant Professor of Neurology

Office

Shapiro Building, 725 Albany St., 7th floor, Boston, MA 02118

Phone

617-638-8456

Education

Medical School: Tufts University School of Medicine, 2014
Internship: Medicine, Boston University Medical Center, 2015
Residency: Neurology, Boston University Medical Center, 2018
Fellowship: Headache Medicine, Dartmouth-Hitchcock Medical Center, 2019
Board Certification: Neurology
Special Interests: Headache management during pregnancy, migraine, trigeminal autonomic cephalalgias, cluster headache
Publications:
Cervantes-Arslanian A, Lau KHV, Anand P, Shulman JG, Ford T, Takahashi C, Daneshmand A, Nguyen TN, Suchdev K, Abdennadher M, Saxena A, Macone A, Perloff M, Zhu S, Greer DM. Rapid Dissemination of Protocols for Managing Neurology Inpatients with COVID-19. Ann Neurol. 2020 May 12.
Macone AE, Perloff MD. Lasmiditan: Its Development and Potential Use. Clin Pharmacol Drug Dev. 2020 Apr;9(3):292-296. doi: 10.1002/cpdd.781. Epub 2020 Feb 5.
Macone A; Tepper SJ. Calcitonin Gene Related Peptide: The New Era of Migraine Therapy. Future Drug Discovery. (In press).
Macone A; Otis J.A.D. Neuropathic Pain. Seminars in Neurology. 2018; 38(6):644-653
Macone A. E.; Perloff M.D. Triptans and Migraine: Advances in Use, Administration, Formulation, and Development. Expert Opinion on Pharmacotherapy. 2017 Mar; 18(4): 387-397.
Otis J.A.D; Macone A.E. When to Use Opioids: What I Didn't Learn in Medical School. Practical Pain Management. 2016 Sep; 16(suppl. 7): 13-18.