Using RefWorks
Using RefWorks
---
RefWorks Group Code
When you sign up for a RefWorks account, you will receive a confirmation email that contains a Group Code for BU. Please save this email, as the Group Code will be needed in order to authenticate your affiliation with BU if you wish to sign into your account directly at refworks.com rather than through the Medical Library home page.
If you have lost the code, you may call the Reference Desk at (617) 358-4810 during normal business hours, or see this page.

Back to Main RefWorks Page
---
Attaching PDFs and Other Files
RefWorks can be used to organize PDFs, text documents, images, or other types of files (up to 20 MB per file) associated with references.
Make sure the file is saved on your computer.
Locate the reference to which the file is related and click "Edit."
Above the line for the author name is a line marked "attachments." Click the "browse" button and locate the file on your computer.
Click "Add attachment."

An icon for the attachment should appear under the "attachments" line and you can click it to open the attachment.
You can follow these steps to add more attachments, but they must be added one at a time.
---
Using "My List"
RefWorks offers a feature called My List that allows you to temporarily save selected references to a list that is easy to print out, format into a bibliography, edit, or export.
To add references to My List, simply click the "Add to My List" button near the top of any screen that shows references. This copies the reference(s) to a new area: it does not change them or move them from the folder in which they are stored.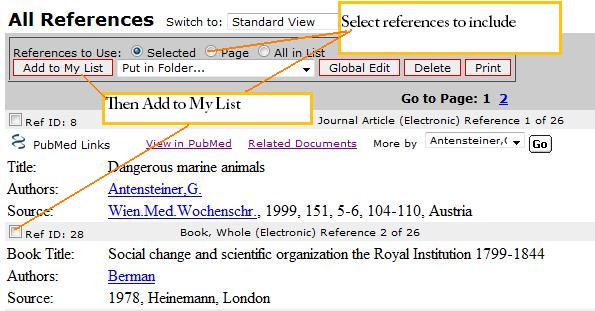 To see the list, go to "My List" under the "View" tab.
References in My List are stored during your RefWorks session, but cleared when you log out. If you need to permanently store specific references together, creating a folder for them is a better option.
---
Creating a Free-Standing Bibliography
If you are not using the "Write-N-Cite" feature in Word, you can create a free-standing bibliography formatted by RefWorks in a variety of text formats. You can then copy and paste it into your paper.
Click "Bibliography" on the main page.
Choose the citation style you need from the "Output Style" drop-down menu. Several popular styles will be listed: if you do not see the one you need, select "Access output style manager" at the bottom of the list to see all the supported styles.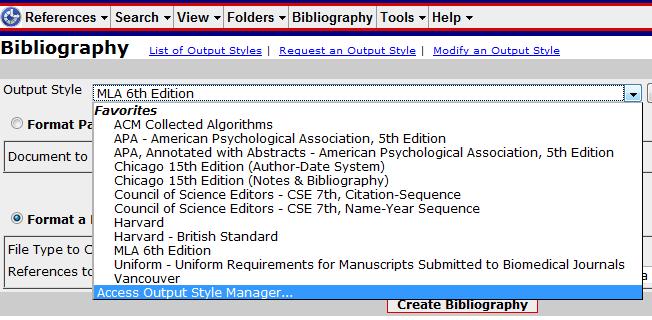 Choose the one you need and click "add to favorites," then click "back to previous page" in the upper right of the screen. The output style you just added will now be included on the drop-down list.
Click the button for "Format a Bibliography from a List of References," and choose the type of file you want to save from the drop-down menu.
Select the references to be included: either "all references," "My List," or all the references within a specific folder.
Click "Create Bibliography."
Depending on how your browser and computer are set up, the document may download automatically, or you may need to click on a link on the page to download it. You can also email the bibliography to yourself or someone else.
---
Alumni Access to RefWorks
Use of RefWorks is available to all current and former BU students for as long as BU maintains its subscription to RefWorks. If you set up an account while you were studying at BU and would like to continue to use it after graduation, or if you would like to begin using RefWorks even though you have already graduated from BU, you are welcome to do so. See this announcement for more details.
If asked for a Group Code in order to register or log in, please see this page.