RefWorks: Folders
Working with Folders
Please note that the screen caps used here are from an older version of RefWorks. We are working on an update of this page. In the meantime, the basic instructions should still work, but the screens you see within RefWorks may look different.
---
About Folders
RefWorks allows you to save your references in different folders so that you can organize them according to the topic or project.
To see your folders, go to "View" under the "Folders" tab, or "Folder" under the "View" tab. You will always see three folder names listed in black text:

 

Last Imported,

 

References Not in a Folder, and

 

Deleted References. These are the default folders created by the system, and they cannot be changed.
The names of any folders you have created will appear below these default folders, in red text. Click on any folder name to see the references saved there.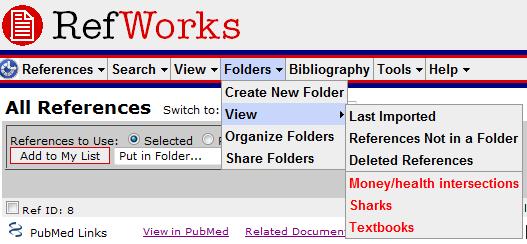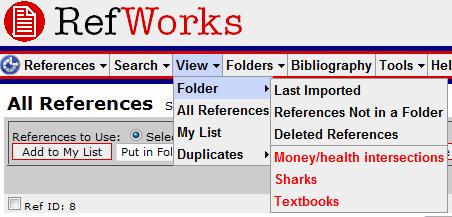 ---
Default Folders
Last Imported: Clicking on this folder will always display a list of the most recently imported items, regardless of where else you may have saved them. If you do not specify a particular folder when importing references, they will initially appear only here.
References Not in a Folder: This is a catch-all area for references you have not placed in a specific folder. If you do not move references in Last Imported before importing more references, they will automatically move here. References will also move here if you remove them from a folder without specifically placing them in another folder.
Deleted References: If you delete a reference, it will move to this folder, where it will be stored for 30 days before being permanently erased. You can recover deleted references during these 30 days; click on the Deleted References folder name, then select the references you wish to save and click "restore." Restored references will be returned to the folder from which they were deleted, and can then be edited, moved and included in bibliographies as normal.
---
Creating Folders
To make a folder of your own, select "Create New Folder" under "Folders."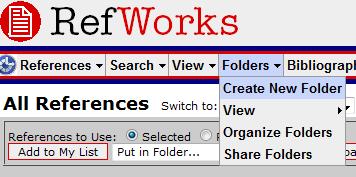 A new screen will appear, on which you may type a name for the folder. Name the folder, then click OK.
When you go back to "View" under "Folders" (or "Folder" under "View"), you will see the name of the folder you just created, listed in red text. You can create as many folders as you wish.
---
Adding References to Folders
Depending on how you are importing or adding your references, you can often select a specific folder in which to store newly saved references. Otherwise, it is easy to move them from one folder to another.
Go to "View" under "Folders" or "Folder" under "View," and click on the name of the folder in which the reference(s) you wish to move is stored. Select the reference or references you want to move, either by checking the box next to each, or by clicking "page" or "all in list" at the top of the list to select multiple references at once.
Click the "Put in Folder" menu at the top of the reference list and select the correct folder name from the list. Click OK when the confirmation screen pops up.
---
Removing or Deleting References
You can remove a reference from a folder by selecting the folder name in "View" under "Folders" (or "Folder" under "View"), then selecting the desired reference or references and clicking "Remove from Folder."
This removes the reference(s) from that folder, but does not delete it entirely. If there was a copy of the reference stored in another folder, it will remain there, and if you remove a reference that is not stored in another folder, it will be saved in the References Not in a Folder area.
To delete a reference entirely, click the "delete" button on any page that shows references (on pages showing multiple references, you may select several references and delete them all at once).
Deleted references will be stored in the Deleted References folder for 30 days before being permanently erased, and may be retrieved during this period if you find you do want the reference after all (see Deleted References in Default Folders).
---
Organizing Folders
You can view and edit the properties of your folders by going to "Organize Folders" under "Folders." You will see a list of all your folders with the number of references each contains. From this screen, you can easily:
Create a new folder
Share a folder (see RefShare)
View the references in a folder by clicking the link showing the number of references
Rename a folder
Delete a folder (references inside a deleted folder will not be deleted, but will move to the References Not in a Folder area until reassigned)
Clear a folder (the folder will be emptied: references in it will move to the References Not in a Folder area until reassigned)