RefWorks and Web of Science
RefWorks and Web of Knowledge/Web of Science
From within Web of Knowledge or Web of Science (a more specific database contained within Web of Knowledge), select the references you wish to add to your RefWorks account by checking the boxes next to them.
Scroll to the bottom of the page. You will see options to save to EndNote, RefMan and ProCite, as well as an option to "save to other reference software." Click the button next to this option.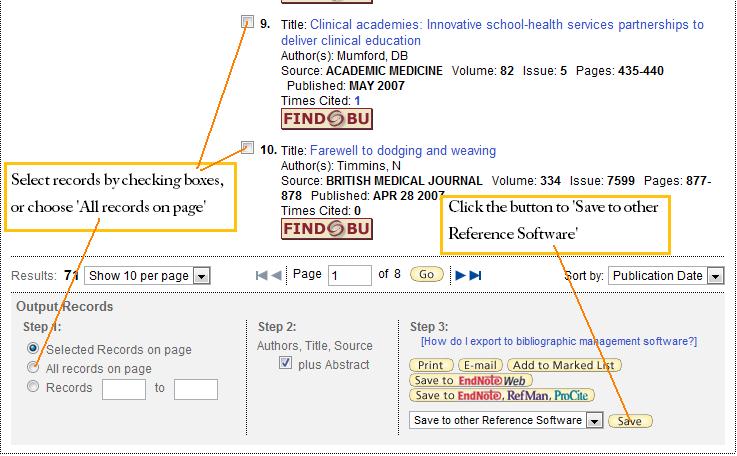 You should see a pop-up window telling you that you are saving a text document (called "savedrecs" by default; you can rename it if you like) to your computer. Click Save.

From within RefWorks, click the "References" tab and select "Import."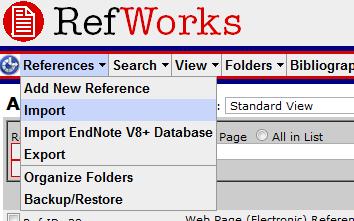 For "Import Filter/Data Source" select "ISI (Institute for Scientific Information)."
For "Database" select either "Web of Knowledge" or "Web of Science," depending on which ISI database you are using.
If desired, specify the folder into which you wish to import the references. They will also be listed in

 

Last Imported.
Click the radio button for "Import Data from the following Text File."
Leave "Encoding" as it is.
Click "Choose File" and browse to the saved document on your computer. Click "open."
Click "Import."
You should see a screen telling you that references have been imported and allowing you to edit the source and database information. Add the URL for the database (http://pcs.isiknowledge.com for Web of Knowledge or http://apps.isiknowledge.com for Web of Science) in the "Links" field and click "Edit Fields."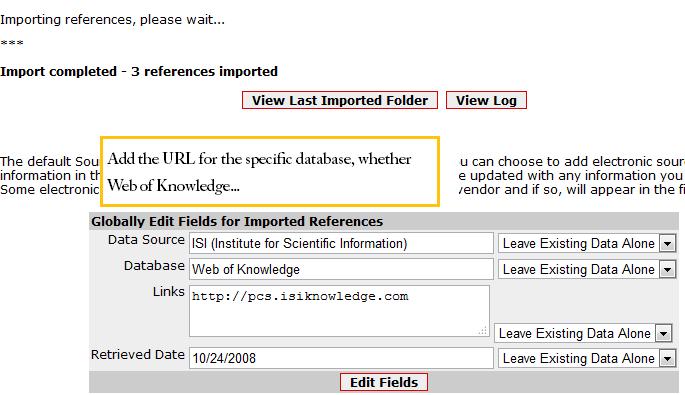 You will see a screen telling you that the global edit is complete. Click "View Last Imported Folder," or go to "All References" or the folder you selected to see the references.